Pentecost
commonly called Whitsunday
Homily of Augustin on the Gospel
News of the Order and commentary appear after the Proper Collect, Epistle and Gospel
O GOD, who as at this time didst teach the hearts of thy faithful people, by sending to them the light of thy Holy Spirit; Grant us by the same Spirit to have a right judgment in all things, and evermore to rejoice in his holy comfort; through the merits of Christ Jesus our Saviour, who liveth and reigneth with thee, in the unity of the same Spirit, one God, world without end. Amen.
This Collect is to be said daily throughout Whitsun Week.
Joel ii. 28, Psalm 68, Acts ii. 1. St. John xiv. 15.
Homily of Augustin on John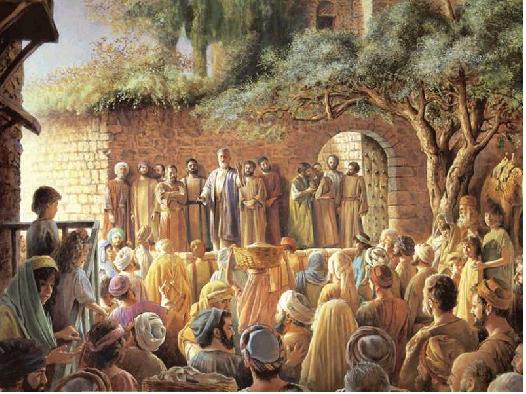 calendar
Julius, Soldier, Martyr - May 27th
Memorial for Fallen Veterans
Last Monday in May or other day according to local custom
Major Audie Murphy - Christian Hero of WWII 1971 [May 28]

Whitsun Ember Days
Wednesday, Friday, Saturday
Joan of Arc, Martyr - May 30th
Monday marks Memorial Day in the US. There is a link above with scriptures and the poem of a centurion , Lt. Col. John McCrae of Canada, who wrote before he fell, "In Flander Fields the poppies blow..." This Whitsun Eve as I write these words I wear a poppy, a gift today from a member of a local Veterans of Foreign Wars post. I bid your prayers for the families of those we have lost fallen warriors in these latter days, and offer thanksgiving for the service of our fallen brethren. I encourage you to support local Memorial Day events in your community - as a sign and service.
A fellow centurion alerted me to a special site that reports on websites allowed to be shown on computers behind the "Great Firewall of China." It would appear that the Order's site did not pass through the firewall from my test this week; however, it was in China that another brother found the Order and joined us over two years ago. http://www.greatfirewallofchina.org/
commentary
This Sunday is the Day of Pentecost. It is one of the traditional Jewish feasts that has been carried over into the Church of Christ with a new and added meaning. Known as the festival of weeks (seven weeks), it was one of the three great feasts of the Jewish Church, coming at about the time of the first wheat harvest, upon which all males in Israel were to present themselves at the Temple with an offering. It likewise is one of the three major feasts of the Christian Church when all Christians were and in some churches, are, to present themselves at Church to receive Holy Communion. In England, and now in countries colonized by England, it is known by the name of Whitsunday. Those who had been baptized on the Vigil of Easter, 50 days before, would wear their white tunics to this Feast, as would others in remembrance of their baptism. It is yet a good day for us to remember to wear white!
The Homily for this Sunday is from Augustin of Hippo. He preaches on the Day of Pentecost, and emphasizes that it was only by the action of the Holy Spirit leading and touching the hearts of men that they could call on Jesus as Lord, only by the power of the Holy Ghost that they could begin to obey the commandments, and only by the Holy Ghost leading them, that they might receive him fuller according to the measure of faith they had received from the One Spirit. This is the catholic faith. At the time that Augustine was writing this homily, he was fighting also against the heresy of the monk Pelagius, who argued that there was no original sin, and that all men were fully capable of their own works to earn their salvation, to follow perfectly the commandments. This catholic faith was codified in the Canons of the Council of Orange in the sixth century.
In today's homily Augustine wrote, "We are therefore to understand that he who loves has already the Holy Spirit, and by what he has becomes worthy of a fuller possession, that by having the more he may love the more."
May God pour his Spirit more and more upon the brothers of the Order, and may they more and more follow our Commander through obedience to his commandments in spirit and in truth.
pax Christi,
msc