GOD, which knowest us to be set in the midst of so many and great dangers, that for man's frailness, we cannot always stand uprightly; Grant to us the health of body and soul that all those things which we suffer for sin, by thy help we may pass and overcome, through Christ our Lord. Amen.
Source: Sacrementary of Bishop Gregory of Rome. This is based on the collect for the Ember Saturday in Lent. Gregory lived in a very troubled time for the Roman Empire as is indicated in this collect and aligned with the Gospel appointed for that day, Matt 8-23-27, the storm upon the sea, when the boat was so tossed that they disciples could not stand upright. This was somewhat reworded in the BCP of 1662
Romans xiii. 1   Psalms 75, 76 | 107;   St. Matthew viii. 1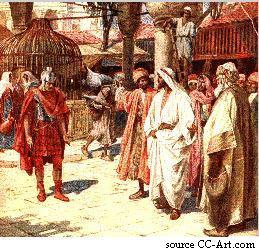 Lord, I am not worthy that thou shouldest come under my roof:
but speak the word only, and my servant shall be healed
---
Chrysostom wrote,
What then saith the centurion? "I am not worthy that thou shouldest come under my roof. "  Let us hearken, as many as are to receive Christ: for it is possible to receive Him even now. Let us hearken, and emulate, and receive Him with as great zeal; for indeed, when thou receivest a poor man who is hungry and naked, thou hast received and cherished Him.
 "But say in a word only,and my servant shall be healed." See this man also, how, like the leper, he hath the right opinion touching Him. For neither did this one say, "entreat," nor did he say, "pray, and beseech," but "command only." And then from fear lest out of modesty He refuse, he saith,"For I also am a man under authority, having under me soldiers; and I say to this man, go, and he goeth; and to another, come, and he cometh; and to my servant, do this, and he doeth it."....
Wherefore at the centurion He both marvels, and prefers him to all the people, and honors him with the gift of the kingdom, and provokes the rest to the same zeal. And to show thee that for this end He so spake, viz. for the instructing of the rest to believe in like manner, listen to the exactness of the evangelist, how he hath intimated it. For, "Jesus," saith he, "turned Him about, and said to them that followed Him, I have not found so great faith, no, not in Israel."
Prayer... 
ALMIGHTY God, our Sovereign Lord, who didst heal the servant at Capernaum in accordance with the Centurion's great faith; we beseech thee, strengthen us through the power of thy Spirit, that we might always ask those things that are requisite and necessary in faith, knowing that thou wilt answer them according to thy righteous will. Through Jesus Christ our Lord, who liveth and reigneth with thee and the Holy Ghost, one God, now and evermore. Amen
note: The Order remembers this saint on the 22 of June http://orderofcenturions.org/capernaum_centurion.html
FINIS
--
Released by Primus Pilus- Seventh Year Sabbatical 
Legio Christi-Ecclesia Militans
"Let us therefore follow after the things which make for peace, and things wherewith one may edify another" [St. Paul's Epistle to the Romans 14:19]
* ORDO CENTURIONUM * IN HOC SIGNO VINCES * TIME DEUM ET OPERARE IUSTITIAM