LET thy merciful ears, O Lord, be open to the prayers of thy humble servants; and, that they may obtain their petitions, make them to ask such things as shall please thee; through Jesus Christ our Lord. Amen.
Source of Collect: Gelasian Sacramentary [492-496] and one similar appeared before in the Sacrementary of Leo. The petition reminds one of Romans: Likewise the Spirit also helpeth our infirmities: for we know not what we should pray for as we ought: but the Spirit itself maketh intercession for us with groanings which cannot be uttered. And he that searcheth the hearts knoweth what is the mind of the Spirit, because he maketh intercession for the saints according to the will of God. Latin[Barber & Zahl]"8:26-27
Lamentations i. 1, Psalms 61, 62 | 48, 49 , 1 Corinthians xii. 1   &   St. Luke xix. 41

Homilies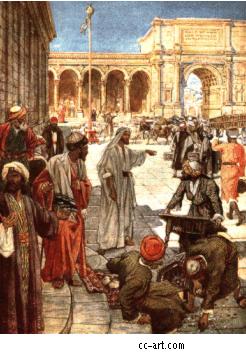 My house is the house of prayer
Chrysostom wrote on the epistle,
This whole place [passage] is very obscure: but the obscurity is produced by our ignorance of the facts referred to and by their cessation, being such as then used to occur but now no longer take place. And why do they not happen now? Why look now, the cause too of the obscurity hath produced us again another question: namely, why did they then happen, and now do so no more?
The epistle:
1 Corinthians xii. 1.
CONCERNING spiritual gifts, brethren, I would not have you ignorant. Ye know that ye were Gentiles, carried away unto these dumb idols, even as ye were led. Wherefore I give you to understand, that no man speaking by the Spirit of God calleth Jesus accursed: and that no man can say that Jesus is the Lord, but by the Holy Ghost. Now there are diversities of gifts, but the same Spirit. And there are differences of administrations, but the same Lord. And there are diversities of operations, but it is the same God which worketh all in all. But the manifestation of the Spirit is given to every man to profit withal. For to one is given by the Spirit the word of wisdom; to another the word of knowledge by the same Spirit; to another faith by the same Spirit; to another the gifts of healing by the same Spirit; to another the working of miracles; to another prophecy; to another discerning of spirits; to another divers kinds of tongues; to an other the interpretation of tongues: but all these worketh that one and the selfsame Spirit, dividing to every man severally as he will.
Read it all at the link. 
Finis
--
Released by Primus Pilus
Legio Christi-Ecclesia Militans
"Let us therefore follow after the things which make for peace, and things wherewith one may edify another" [St. Paul's Epistle to the Romans 14:19]
* ORDO CENTURIONUM * IN HOC SIGNO VINCES * TIME DEUM ET OPERARE IUSTITIAM