Grace unto you, and peace, from God our Father and the Lord Jesus Christ
News of the Order and commentary appear after the Proper Collect, Epistle and Gospel
The First Sunday after Christmas
Homily of St. Augustine on Psalm II

ALMIGHTY God, who hast given us thy only-begotten Son to take our nature upon him, and as at this time to be born of a pure virgin; Grant that we being regenerate, and made thy children by adoption and grace, may daily be renewed by thy Holy Spirit; through the same our Lord Jesus Christ, who liveth and reigneth with thee and the same Spirit ever, one God, world without end. Amen.
Galatians iv. 1, Psalm II, VIII | LXXXIX & St. Matthew i. 18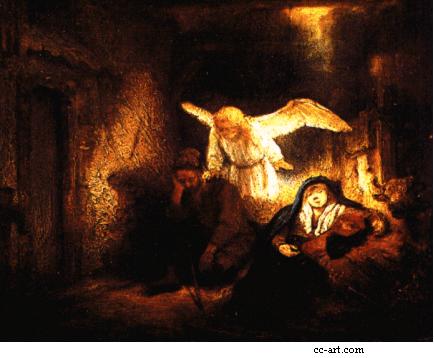 Joseph, thou son of David, fear not to take unto thee Mary thy wife:
for that which is conceived in her is of the Holy Ghost
---
BULLETIN
membership
quotation
In conformity with these landmarks in the human and Christian vision of marriage, we must once again declare that the direct interruption of the generative process already begun, and, above all, directly willed and procured abortion, even if for therapeutic reasons, are to be absolutely excluded as licit means of regulating birth.
[Paul VI, Bishop of Rome, written 40 years ago]
calendar
The Circumcision of our Lord JESUS CHRIST - January 1st
Sacramentum of the Order - January 3rd
Theagenes, Legionary of Parium - January 3rd
Gordias, Centurion, Martyr, -- 3 Jan [307-324]
Commentary
This week marks the beginning of the New Year with the Feast of the Circumcision. Last week I baptized an infant and reminded the witnesses of the Circumcision on the 8th day following birth, which marked Jesus as a member of the Assembly of Israel and a rightful beneficiary of the Covenant that God made with Abraham. No less are the children of faithful members of Christ's Church rightful inheritors of the Covenant of Grace. Our membership is not by virtue of any innovative "covenant" that a church has invented for candidates in these latter days, but by and through confession of the faith once delivered to the saints and the promise of Jesus.
Augustine's homily this week is on Psalm 2. In previous weeks, we have seen how he examines the psalms from a post-Resurrection perspective, reading Christ into passages. Psalm Two virtually cries out for this approach as it ends:
"Kiss the Son… Blessed are all they that put their trust in him."
I thought that the following paragraph in his homily was especially significant to the Order, as it touches on our motto, and somewhat of how "fear" is understood by so many misinformed folk today.
9. "Serve the Lord with fear;" lest what is said, "Ye kings and judges of the earth," turn into pride: "And rejoice with trembling" (ver. 11). Very excellently is "rejoice" added, lest "serve the Lord with fear" should seem to tend to misery. But again, lest this same rejoicing should run on to unrestrained inconsiderateness, there is added "with trembling," that it might avail for a warning, and for the careful guarding of holiness. It can also be taken thus, "And now ye kings understand;" that is, And now that I am set as King, be ye not sad, kings of the earth, as if your excellency were taken from you, but rather "understand and be instructed." For it is expedient for you, that ye should be under Him, by whom understanding and instruction are given you. And this is expedient for you, that ye lord it not with rashness, but that ye "serve the Lord" of all "with fear," and "rejoice" in bliss most sure and most pure, with all caution and carefulness, lest ye fall therefrom into pride.
 Serve the LORD with fear, and rejoice with trembling.
 Α  ☧ Ω 
 Order of Centurions

 
--
"Let us therefore follow after the things which make for peace, and things wherewith one may edify another" [St. Paul's Epistle to the Romans 14:19]
IN HOC SIGNO VINCES - TIME DEUM ET OPERARE IUSTITIAM
www.OrderofCenturions.org