News of the Order and commentary appear after the Proper Collect, Epistle and Gospel
The Sunday next before Advent
STIR up, we beseech thee, O Lord, the wills of thy faithful people; that they, plenteously bringing forth the fruit of good works, may by thee be plenteously rewarded; through Jesus Christ our Lord. Amen.
Then those men, when they had seen the miracle that Jesus did, said, This is of a truth that prophet that should come into the world.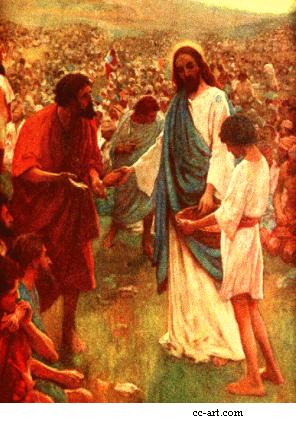 BULLETIN
quotation
Turning from you, I dared to seek something that seemed to me to be more intellectual than faith, more certain than hope, and sweeter than love. Who is more foolish than me... [attributed to Augustine]
calendar
commentary
On the appointed psalm, homily at the link
But they who say, None save God sanctifieth, nor is any man good save by the gift of God; they bless in the name of the Lord, not in their own name: because they are the friends of the bridegroom, they refuse to be adulterers of the bride.
I am reminded of the of the exchange of the peace in the Eucharist where the traditional salutation is not what one would find at a football game or cocktail party, but rather a blessing in the form of a greeting between churchmen such as " The Peace of the Lord be with you", or "God's Peace", or " Shalom", and a sign of God's Peace such as the kiss or an embrace. The same was true in ancient Israel; compare Ruth ii. 4&5 where Boaz greets his workers with a blessing in the LORD's name, and his workers respond with, "The Lord bless you."


--
"Let us therefore follow after the things which make for peace, and things wherewith one may edify another" [St. Paul's Epistle to the Romans 14:19]

IN HOC SIGNO VINCES - TIME DEUM ET OPERARE IUSTITIAM
www.OrderofCenturions.org