Grace unto you, and peace, from God our Father and the Lord Jesus Christ
News of the Order and commentary appear after the Proper Collect, Epistle and Gospel
The Tenth Sunday after Trinity

Let thy merciful ears, O Lord, be open to the prayers of thy humble servants; and, that they may obtain their petitions, make them to ask such things as shall please thee; through Jesus Christ our Lord. Amen.
Source of Collect: Gelasian Sacramentary [492-496] and one similar appeared before in the Sacrementary of Leo. The petition reminds one of Romans: Likewise the Spirit also helpeth our infirmities: for we know not what we should pray for as we ought: but the Spirit itself maketh intercession for us with groanings which cannot be uttered. And he that searcheth the hearts knoweth what is the mind of the Spirit, because he maketh intercession for the saints according to the will of God. [Barber & Zahl]"8:26-27
2nd Kings xix 32, Psalms 61, 62 | 48, 49 , 1 Corinthians xii. 1 & St. Luke xix. 41

Homily of Augustine on Psalm XLVIII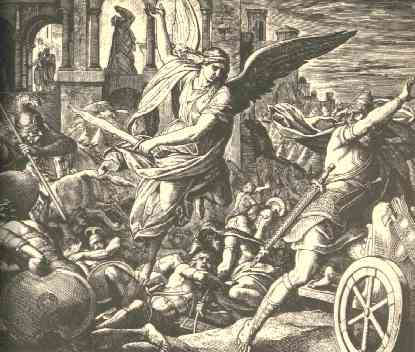 the angel of the LORD went out, and smote in the camp of the Assyrians an hundred fourscore and five thousand:
BULLETIN
calendar
quotation
..."God is, or He is not..
you must wager. It is not optional. You are embarked. Which will you choose then? …Let us weigh the gain and the loss in wagering that God is. Let us estimate these two chances. If you gain, you gain all; if you lose, you lose nothing. Wager, then, without hesitation that He is.."
[Blaise Pascal, Pascal's Wager]
news
RC Bishops allegedly "ordained" dissident Women - 21 July. Church has declared such ceremonies as "INVALID"
Historical Note:
Chalcedon
was the last Ecumenical Christian Council to address any women's ordination in Canon 15
. No woman under forty years of age is to be ordained a deacon, and then only after close scrutiny. …
Duties to minister especially to women are addressed in the
Aposolic Constitution
.
Catholic representative at Lambeth affirms uniqueness of Christ and context of spiritual combat for evangelisation – 23 July
Galasian Sacramentary. Leonian Sacramentary Google Books, source for ancient collects, in Latin
commentary
Today's
homily by Augustine
is on
Psalm XLVIII
. The Old Testament Lesson from
2nd Kings
tells of the Lord's mighty hand in defending Zion, as he sent his Militant Angel
(St. Michael?)
to slay the Assyrians who came to set siege to the City. Augustine examines the Psalm from the idea of Christ as the New Zion. He explains a bit of ancient historical belief as he writes of verse 6:
"With a strong wind Thou shalt break the ships of Tarshish"

Briefly understood, this is, Thou shalt overthrow the pride of the nations. But where in this history is mentioned the overthrowing of the pride of the nations? Because of "the ships of Tarshish." Learned men have enquired for Tarshish a city, that is, what city was signified by this name: and to some it has seemed that Cilicia is called Tarshish, because its metropolis is called Tarsus. Of which city was the Apostle Paul, being born in Tarsus of Cilicia. But some have understood by it Carthage, being haply sometimes so named, or in some language so signified. For in the Prophet Isaiah it is thus found: "Howl, ye ships of Carthage." But in Ezekiel by some interpreters the word is translated Carthage, by some Tarshish: and from this diversity it can be understood that the same which was called Carthage, is called Tharsus. But it is manifest, that in the beginning of its reign Carthage flourished with ships, and so flourished, that among other nations they excelled in trafficking and navigation. For when Dido, flying from her brother, escaped to the parts of Africa, where she built Carthage, the ships which had been prepared for commerce in his country she had taken with her for her flight, the princes of the country consenting to it; and the same ships also when Carthage was built failed not in traffic. And hence that city became too proud, so that justly by its ships may be understood the pride of the nations, presuming on things uncertain, as on the breath of the winds. Now let none presume on full sails, and on the seeming fair state of this life, as of the sea. Be our foundation in Sion: there ought we to be stablished, not to be "carried about with every wind of doctrine." Whoso then by the uncertain things of this life had been puffed up, let them be overthrown, and be all the pride of the nations subjected to Christ, who shall "with a strong wind break all the ships of Tarshish:" not of any city, but of "Tarshish." How "with a strong wind"? With very strong fear. For so all pride feared Him that shall judge, as on Him humble to believe, lest Him exalted it should fear.
May God defend his holy Apostolic Church from the proud, vain, and perverse ships blown by winds of post-modern false doctrine that assault our Zion, and which attack the faith once given to the saints of Christ's Catholic Church.
Historical Note: Tarshish is likely "Tartessus" in southern Spain near Gibraltar. The folk were great seagoing traders. Tarsus, the City of Paul, is the chief city of Cilicia in the eastern part of Asia Minor, 12 miles up the Cydnus river.