ALMIGHTY Father, who hast given thine only Son to die for our sins, and to rise again for our justification; Grant us so to put away the leaven of malice and wickedness, that we may always serve thee in pureness of living and truth; through the merits of the same thy Son Jesus Christ our Lord. Amen.
1 St. John v. 4.; Psalms 110, 111 | 2, 57; John xx19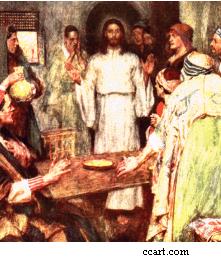 He breathed on them, and said, Receive ye the Holy Ghost.
 Whosesoever sins ye remit, they are remitted unto them, 
and whosesoever sins ye retain, they are retained.
---
Chrysostom wrote, 
As a king sending forth governors, gives power to cast into prison and to deliver from it, so in sending these forth, Christ investeth them with the same power. But how saith He, "If I go not away, He will not come" ( c. xvi. 7 ), and yet giveth them the Spirit? Some say that He gave not the Spirit, but rendered them fit to receive It, by breathing on them. For if Daniel when he saw an Angel was afraid, what would not they have suffered when they received that unspeakable Gift, unless He had first made them learners? Wherefore He said not, "Ye have received the Holy Ghost," but, "Receive ye the Holy Ghost." Yet one will not be wrong in asserting that they then also received some spiritual power and grace; not so as to raise the dead, or to work miracles, but so as to remit sins. For the gifts of the Spirit are of different kinds; wherefore He added, "Whosesoever sins ye remit, they are remitted unto them," showing what kind of power He was giving. But in the other case, after forty days, they received the power of working miracles. Wherefore He saith, "Ye shall receive power, after that the Holy Ghost is come upon you, and ye shall be My witnesses both in Jerusalem, and in all Judæa." ( Acts i. 8 .) And witnesses they became by means of miracles, for unspeakable is the grace of the Spirit and multiform the gift. But this comes to pass, that thou mayest learn that the gift and the power of the Father, the Son, and the Holy Ghost, is One. For things which appear to be peculiar to the Father, these are seen also to belong to the Son, and to the Holy Ghost. "How then," saith some one, "doth none come to the Son, 'except the Father draw him'?" ( c. vi. 44 .) Why, this very thing is shown to belong to the Son also. "I," He saith, "am the Way: no man cometh unto the Father but by Me." ( c. xiv. 6 .) And observe that it belongeth to the Spirit also; for "No man can call Jesus Christ Lord, but by the Holy Ghost." ( 1 Cor. xii. 3 .) Again, we see that the Apostles were given to the Church at one time by the Father, at another by the Son, at another by the Holy Ghost, and that the "diversities of gifts" ( 1 Cor. xii. 4 ) belong to the Father, the Son, and the Holy Ghost.
 Let us then do all we can to have the Holy Spirit with ourselves, and let us treat with much honor those into whose hands its operation hath been committed. For great is the dignity of the priests. "Whosesoever sins," it saith, "ye remit, they are remitted unto them"; wherefore also Paul saith, "Obey them that have the rule over you, and submit yourselves." ( Heb. xiii. 17 .) And hold them very exceedingly in honor; for thou indeed carest about thine own affairs, and if thou orderest them well, thou givest no account for others, but the priest even if he rightly order his own life, if he have not an anxious care for thine, yea and that of all those around him, will depart with the wicked into hell; and often when not betrayed by his own conduct, he perishes by yours, if he have not rightly performed all his part. Knowing therefore the greatness of the danger, give them a large share of your goodwill; which Paul also implied when he said, "For they watch for your souls," and not simply so, but, "as they that shall give account." ( Heb. xiii. 17 .) They ought therefore to receive great attention from you; but if you join with the rest in trampling upon them, then neither shall your affairs be in a good condition. For while the steersman continues in good courage, the crew also will be in safety; but if he be tired out by their reviling him and showing ill-will against him, he cannot watch equally well, or retain his skill, and without intending it, throws them into ten thousand mischiefs. And so too the priest, if he enjoy honor from you, will be able well to order your affairs; but if ye throw them into despondency, ye weaken their hands, and render them, as well as yourselves, an easy prey to the waves, although they be very courageous.
(Comment: I would add that one should not honor blindly. As for for those heretics of the Word, put them far from you; for in this day we find many organized churches fail to discipline their ministers when they stray and lead their flock into significant scriptural error, or worse.)
Read it all at the link above
Finis
--
Released by Primus Pilus-Sabbatical
Legio Christi-Ecclesia Militans
"Let us therefore follow after the things which make for peace, and things wherewith one may edify another" [St. Paul's Epistle to the Romans 14:19]
* ORDO CENTURIONUM * IN HOC SIGNO VINCES * TIME DEUM ET OPERARE IUSTITIAM