The Second Sunday in Advent
Augustin on Psalm LXXX
Advent Two Home
BLESSED Lord, who hast caused all holy Scriptures to be written for our learning; Grant that we may in such wise hear them, read, mark, learn, and inwardly digest them, that by patience and comfort of thy holy Word, we may embrace, and ever hold fast, the blessed hope of everlasting life, which thou hast given us in our Saviour Jesus Christ. Amen.

ALMIGHTY God, give us grace that we may cast away the works of darkness, and put upon us the armour of light, now in the time of this mortal life, in which thy Son Jesus Christ came to visit us in great humility; that in the last day, when he shall come again in his glorious majesty to judge both the quick and the dead, we may rise to the life immortal, through him who liveth and reigneth with thee and the Holy Ghost, now and ever. Amen.
Collect for the First Sunday in Advent, to be read daily
Source (1st Collect): Archbishop Thomas Cranmer [1549 AD]. The emphasis on Scripture is enunciated here. To understand Cranmer and his desire to encourage Bible reading, read the Preface to the Cranmer Bible and the Preface to the 1549 Prayer Book. [Barbee and Zahl] Cranmer proposed continuous reading of the Scriptures - "lectio continua". Archbishop John Chrysostom, among other early doctors, was an advocate and practicioner of lectio continua.
Isaiah 55, Psalms 80, 82 | 25, 26 Romans xv. 4 St. Luke xxi. 25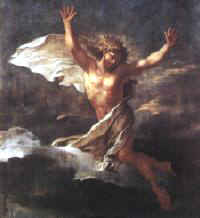 then shall they see the Son of man coming in a cloud with power and great glory
---
quotation
All forms of divination are to be rejected: recourse to Satan or demons, conjuring up the dead or other practices falsely supposed to "unveil" the future. Consulting horoscopes, astrology, palm reading, interpretation of omens and lots, the phenomena of clairvoyance, and recourse to mediums all conceal a desire for power over time, history, and, in the last analysis, other human beings, as well as a wish to conciliate hidden powers. They contradict the honor, respect, and loving fear that we owe to God alone.
[ RC Catechism 3 2116]
Compare Isaiah 47:13-14, Deuteronomy 4:19, Daniel 2:27-28
Earlier this week I was referred to an article in the Living Church. It told of a parish in Seattle that is conducting an Advent program on the benefits of Astrology. The organizer said, "Just as the Magi followed a star to find Jesus, we can look to the stars for help in discerning 'Spirit's' plan for us." The question in my mind is, "what spirit"? "He who has an ear, let him hear what the Spirit says to the Churches"
calendar
George S. Patton, III - December 9th
A centurion recently alerted the Order to this 60 Minutes coverage of the plight of Christians in Iraq. http://www.cbsnews.com/stories/2007/11/29/60minutes/main3553612.shtml
A centurion commneded this site on the Golden Compass. to be smart, sane, sober, & sound (& not panicky). http://www.crosswalk.com/pastors/11561090/
commentary
This week Augustine preaches on Psalm 81. Verse 4 says, "O Lord God of virtues, how long wilt Thou be angry with the prayer of Thy servant?" and Augustine explains, " Thou hast converted us, we know Thee, and wilt Thou still be angry with the prayer of Thy servant? Thou wilt evidently be angry, in fact, as a father correcting, not as a judge condemning. In such manner evidently Thou wilt be angry, because it hath been written, "My son, drawing near unto the service of God, stand thou in righteousness and in fear, and prepare thy soul for temptation." Think not that now the wrath of God hath passed away, because thou hast been converted. The wrath of God hath passed away from thee, but only so that it condemn not for everlasting. But He scourgeth, He spareth not: because He scourgeth every son whom He receiveth. If thou refusest to be scourged, why dost thou desire to be received? He scourgeth every son whom He receiveth. He who did not spare even His only Son, scourgeth every one.
True words indeed, for as Christians we grow under the discipline of Christ and his Church. The man who pretends to be without sin knows not his Father in heaven or the Father's only Son as Master. In this season of Advent, let us seek to hear more clearly our Father's will for us and to grow in Christ as is stated in our Advent collect: that we cast away the works of darkness, and put upon us the armor of light.
biddings
For two new births to families associated with the Order
Grant, we beseech thee, O heavenly Father, that Clare Elizabeth and Timothy Andrew may daily increase in wisdom and stature, and grow in thy love and service, until they come to thy eternal joy; through Jesus Christ our Lord. Amen
[adapted from the BCP service for the Thanksgiving after Child-birth- Churching of Women ]
Salve
msc
--
"Let us therefore follow after the things which make for peace, and things wherewith one may edify another" [St. Paul's Epistle to the Romans 14:19]
IN HOC SIGNO VINCES - TIME DEUM ET OPERARE IUSTITIAM
www.OrderofCenturions.org