The Fourth Sunday after the Epiphany
O GOD, who knowest us to be set in the midst of so many and great dangers, that by reason of the frailty of our nature we cannot always stand upright; Grant to us such strength and protection, as may support us in all dangers, and carry us through all temptations; through Jesus Christ our Lord. Amen.
Source: Sacrementary of Bishop Gregory of Rome [600 AD]. This is based on the collect for the Ember Saturday in Lent. Gregory lived in a very troubled time for the Roman Empire as is indicated in this collect and aligned with the Gospel appointed for that day, Matt 8-23-27, the storm upon the sea, when the boat was so tossed that they disciples could not stand upright.
Romans xiii. 1 & St. Matthew viii. 1
Homilies featuring Chrysostom on the Gospel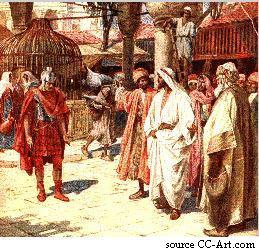 Announcements for the week beginning 29 Jan 06



Please hold all centurions in your prayers this week. You may like to use this Centurion's Daily Litany


Feasts, Memorials, and Fasts

Sundays are feast days our our Lord througout the year
Wednesdays and Fridays were days of fasting and special devotion in the early church
. Major Feasts and Fasts in bold
The Presentation of CHRIST in the Temple
commonly called
The Purification of Mary the Virgin
-- February 2nd

Chaplains of the USAT Dorchester February 3rd

Cornelius, Centurion at Caesarea, Bishop - February 4th

BIDDINGS

Centurions in harms way
Peace in the Mideast

--
IN HOC SIGNO VINCES - TIME DEUM ET OPERARE IUSTITIAM
www.OrderofCenturions.org