Saint Matthias
[February 24]
O ALMIGHTY God, who into the place of the traitor Judas didst choose thy faithful servant Matthias to be of the number of the twelve Apostles; Grant that thy Church, being alway preserved from false Apostles, may be ordered and guided by faithful and true pastors; through Jesus Christ our Lord. Amen.
1 Sam ii. 27, Ps 15, Acts i. 15 and Matthew xi. 25
Homilies

Other Readings:
Eve Ps 33, 1 Sam 16:1-13, 1 John 2:15ff
Morning Ps 15,24; 1 Sam 2:27-35; Matt 7:15-27
Evening Ps 145, 1 Sam 12:1-5, Acts 20:17-35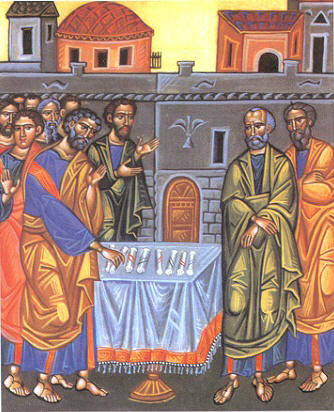 and the lot fell upon Matthias;
and he was numbered with the eleven apostles
Matthias just, today his dignity we own
In that the Apostles' lot gave him the vacant throne;
Last chosen of the Twelve, hear him, O Lord of love,
That throned in light and bliss, we too may reign above.