Next Week's Calendar:
The Presentation of CHRIST in the Temple
commonly called
The Purification of Mary the Virgin
-- February 2nd

Chaplains of the USAT Dorchester February 3rd

Cornelius, Centurion at Caesarea, Bishop - February 4th
The Fourth Sunday after the Epiphany
Augustine on the Centurion of Capernaum, etc.

O GOD, who knowest us to be set in the midst of so many and great dangers, that by reason of the frailty of our nature we cannot always stand upright; Grant to us such strength and protection, as may support us in all dangers, and carry us through all temptations; through Jesus Christ our Lord. Amen.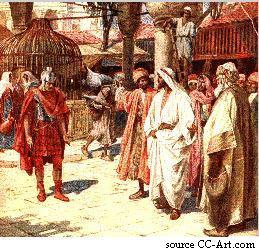 "I am not worthy that thou shouldest come under my roof,"
---
READING
Matthew vii. 1.
WHEN he was come down from the mountain, great multitudes followed him. And, behold, there came a leper and worshipped him, saying, Lord, if thou wilt, thou canst make me clean. And Jesus put forth his hand, and touched him, saying, I will; be thou clean. And immediately his leprosy was cleansed. And Jesus saith unto him, See thou tell no man; but go thy way, shew thyself to the priest, and offer the gift that Moses commanded, for a testimony unto them. And when Jesus was entered into Capernaum, there came unto him a centurion, beseeching him, and saying, Lord, my servant lieth at home sick of the palsy, grievously tormented. And Jesus saith unto him, I will come and heal him. The centurion answered and said, Lord, I am not worthy that thou shouldest come under my roof: but speak the word only, and my servant shall be healed. For I am a man under authority, having soldiers under me: and I say to this man, Go, and he goeth; and to another, Come, and he cometh; and to my servant, Do this, and he doeth it. When Jesus heard it, he marvelled, and said to them that followed, Verily I say unto you, I have not found so great faith, no, not in Israel. And I say unto you, that many shall come from the east and west, and shall sit down with Abraham, and Isaac, and Jacob, in the kingdom of heaven. But the children of the kingdom shall be cast out into outer darkness: there shall be weeping and gnashing of teeth. And Jesus said unto the centurion, Go thy way; and as thou hast believed, so be it done unto thee. And his servant was healed in the selfsame hour.
---
Augustine of Hippo

(Sermon XII in Vol VI, NPNF(1st)


1. We have heard, as the Gospel was being read, the praise of our faith as manifested in humility. For when the Lord Jesus promised that He would go to the Centurion's house to heal His servant, He answered, "I am not worthy that Thou shouldest come under my roof: but speak the word only, and he shall be healed." By calling himself unworthy, he showed himself worthy for Christ to come not into his house, but into his heart. Nor would he have said this with so great faith and humility, had he not borne Him in his heart, of whose coming into his house he was afraid. For it were no great happiness for the Lord Jesus to enter into his house, and vet not to be in his heart. For this Master of humility both by word and example, sat down even in the house of a certain proud Pharisee, by name Simon; and though He sat down in his house, there was no place in this heart, "where the Son of Man could lay His Head."