O GOD, who hast prepared for those who love thee such good things as pass man's understanding; Pour into our hearts such love toward thee, that we, loving thee above all things, may obtain thy promises, which exceed all that we can desire; through Jesus Christ our Lord. Amen.
Collect Source: Sacrementary of Gelasius, Bishop of Rome [ca 494AD]. Inspired by 1 Corinthians ii. 9. (from Isaiah lxiv. 4)
Isaiah lvii. 13b, Psalms 28, 29 | 30, 31 , Romans vi. 3   & St. Matthew v. 20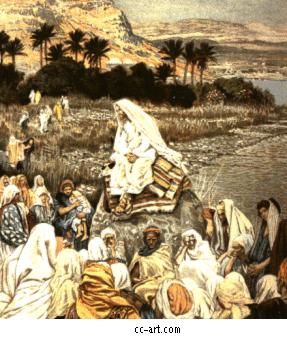 First be reconciled to thy brother
---






John Chrysostom


"If thou bring thy gift to the altar, and there rememberest that thy brother hath ought against thee; leave there thy gift before the altar, and go away; first be reconciled to thy brother, and then come and offer thy gift."

O goodness! O exceeding love to man! He makes no account of the honor due unto Himself, for the sake of our love towards our neighbor; implying that not at all from any enmity, nor out of any desire to punish, had He uttered those former threatenings, but out of very tender affection. For what can be milder than these sayings? "Let my service," saith he, "be interrupted, that thy love may continue; since this also is a sacrifice, thy being reconciled to thy brother." Yea, for this cause He said not, "after the offering," or "before the offering;" but, while the very gift lies there, and when the sacrifice is already beginning, He sends thee to be reconciled to thy brother; and neither after removing that which lies before us, nor before presenting the gift, but while it lies in the midst, He bids thee hasten thither.

With what motive then doth He command so to do, and wherefore? These two ends, as it appears to me, He is hereby shadowing out and providing for. First, as I have said, His will is to point out that He highly values charity, and considers it to be the greatest sacrifice: and that without it He doth not receive even that other; next, He is imposing such a necessity of reconciliation, as admits of no excuse. For whoso hath been charged not to offer before he be reconciled, will hasten, if not for love of his neighbor, yet, that this may not lie unconsecrated, to run unto him who hath been grieved, and do away the enmity. For this cause He hath also expressed it all most significantly, to alarm and thoroughly to awaken him. Thus, when He had said, "Leave thy gift," He stayed not at this, but added, "before the altar" (by the very place again causing him to shudder); "and go away." And He said not merely, "Go away," but He added, "first, and then come and offer thy gift." By all these things making it manifest, that this table receives not them that are at enmity with each other.

Let the initiated hear this, as many as draw nigh in enmity: and let the uninitiated hear too: yea, for the saying hath some relation to them also. For they too offer a gift and a sacrifice: prayer, I mean, and alms-giving. For as to this also being a sacrifice, hear what the prophet saith: "A sacrifice of praise will glorify me;" and again, "Sacrifice to God a sacrifice of praise;" and, "The lifting up of mine hands is an evening sacrifice." So that if it be but a prayer, which thou art offering in such a frame of mind, it were better to leave thy prayer, and become reconciled to thy brother, and then to offer thy prayer.

For to this end were all things done: to this end even God became man, and took order for all those works, that He might set us at one.

And whereas in this place He is sending the wrong doer to the sufferer, in His prayer He leads the sufferer to the wrong doer, and reconciles them. For as there He saith, "Forgive men their debts;" so here, "If he hath ought against thee, go thy way unto him."

Or rather, even here too He seems to me to be sending the injured person: and for some such reason He said not, "Reconcile thyself to thy brother," but, "Be thou reconciled." And while the saying seems to pertain to the aggressor, the whole of it really pertains to him that is aggrieved. Thus, "If thou art reconciled to him," saith Christ, "through thy love to him thou wilt have me also propitious, and wilt be able to offer thy sacrifice with great confidence. But if thou art still irritated, consider that even I readily command that which is mine to be lightly esteemed, that ye may become friends; and let these thoughts be soothing to thine anger."

And He said not, "When thou hast suffered any of the greater wrongs, then be reconciled; but, "Though it be some trifle that he hath against thee." And He added not, "Whether justly or unjustly;" but merely, "If he hath ought against thee." For though it be justly, not even in that case oughtest thou to protract the enmity; since Christ also was justly angered with us, yet nevertheless He gave Himself for us to be slain, "not imputing those trespasses."

For this cause Paul also, when urging us in another way to reconciliation, said, "Let not the sun go down upon your wrath." For much as Christ by this argument of the sacrifice, so there Paul by that of the day, is urging us on to the self-same point. Because in truth he fears the night, lest it overtake him that is smitten alone, and make the wound greater. For whereas in the day there are many to distract, and draw him off; in the night, when he is alone, and is thinking it over by himself, the waves swell, and the storm becomes greater. Therefore Paul, you see, to prevent this, would fain commit him to the night already reconciled, that the devil may after that have no opportunity, from his solitude, to rekindle the furnace of his wrath, and make it fiercer. Thus also Christ permits not, though it be ever so little delay, lest, the sacrifice being accomplished, such an one become more remiss, procrastinating from day to day: for He knows that the case requires very speedy treatment. And as a skillful physician exhibits not only the preventives of our diseases, but their correctives also, even so doth He likewise. Thus, to forbid our calling "fool," is a preventive of enmity; but to command reconciliation is a means of removing the diseases that ensue on the enmity.

And mark how both commands are set forth with earnestness. For as in the former case He threatened hell, so here He receives not the gift before the reconciliation, indicating great displeasure, and by all these methods destroying both the root and the produce.

And first of all He saith, "Be not angry;" and after that, "revile not." For indeed both these are augmented, the one by the other: from enmity is reviling, from reviling enmity. On this account then He heals now the root, and now the fruit; hindering indeed the evil from ever springing up in the first instance: but if perchance it may have sprouted up and borne its most evil fruit, then by all means He burns it down the more.


Read it all at the link
Finis
--
Released by Primus Pilus
Legio Christi-Ecclesia Militans
"Let us therefore follow after the things which make for peace, and things wherewith one may edify another" [St. Paul's Epistle to the Romans 14:19]
* ORDO CENTURIONUM * IN HOC SIGNO VINCES * TIME DEUM ET OPERARE IUSTITIAM