News of the Order and commentary appear after the Proper Collect, Epistle and Gospel
The Eighth Sunday after Trinity
Chrysostom on the Gospel
Trinity Eight Home

O GOD, whose never-failing providence ordereth all things both in heaven and earth; We humbly beseech thee to put away from us all hurtful things, and to give us those things which are profitable for us; through Jesus Christ our Lord. Amen.
Romans viii. 12 & St. Matthew vii. 15

Homily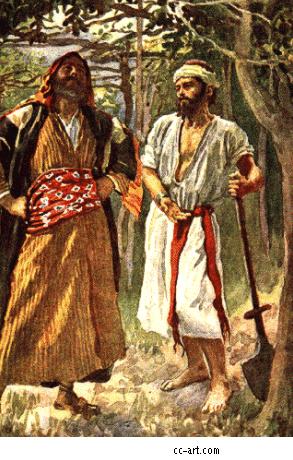 Ye shall know them by their fruits
BULLETIN
Greetings in the Name of our Lord Jesus Christ
Ignatius of Loyola - July 31st
news
I've added a quotation from one of the "centurions" we remember on our calendar, C.S. Lewis, in a letter to a correspondent with some Advice on Writing. I've linked it to the Member Publications page.
commentary
The Homily for this Eighth Sunday after Trinity is from Chrysostom on the Gospel at the link above. If one studies the writings of Augustine and Chrysostom, one may discern a different understanding of the condition of the faithful. Can one of God's elect fall away, or do the true elect persevere? Augustine would have certainly affirmed election and perseverance, but I think that Chrysostom would have said that nothing is assured for the saints, and they may indeed fall away unless they persevere in producing good fruits. Chrysostom writes beautifully in this homily excerpt appearing for the first time on Order this year. Here is a sample below,
For why dost thou pride thyself, O man? Because thou art borne on high in a chariot? Because a yoke of mules is drawing thee? And what is this? Why, this one may see befalling mere logs of wood and stones. Is it that thou art clothed with beautiful garments? But look at him that is clad with virtue for garments, and thou wilt see thyself to be like withering hay, but him like a tree that bears marvellous fruit, and affords much delight to the beholders. For thou art bearing about food for worms and moths, who, if they should set upon thee, will quickly strip thee bare of this adorning (for truly garments and gold and silver, are the one, the spinning of worms; the other earth and dust, and again become earth and nothing more): but he that is clothed with virtue hath such raiment, as not only worms cannot hurt, but not even death itself. And very naturally; for these virtues of the soul have not their origin from the earth, but are a fruit of the Spirit; wherefore neither are they subject to the mouths of worms. Nay, for these garments are woven in Heaven, where is neither moth, nor worm, nor any other such thing.
Finally, I commend a short study of Ignatius of Loyola on our calendar this week, who founded the Jesuits. While recuperating from a serious battle wound that would hamper him through his life, he had a vision of Mary and Jesus, and a realization of the very things that Chrysostom preaches upon in his sermon. Recognizing the gravity of his sin and former life, he turned his life to one of service to God.
pax Christi,
msc
--
"Let us therefore follow after the things which make for peace, and things wherewith one may edify another" [St. Paul's Epistle to the Romans 14:19]
IN HOC SIGNO VINCES - TIME DEUM ET OPERARE IUSTITIAM
www.OrderofCenturions.org
--
"Let us therefore follow after the things which make for peace, and things wherewith one may edify another" [St. Paul's Epistle to the Romans 14:19]
IN HOC SIGNO VINCES - TIME DEUM ET OPERARE IUSTITIAM
www.OrderofCenturions.org