Alleluia, He is risen, O come, Let us adore him! Alleluia
News of the Order and commentary appear after the Proper Collect, Epistle and Gospel
The First Sunday after Easter
ALMIGHTY Father, who hast given thine only Son to die for our sins, and to rise again for our justification; Grant us so to put away the leaven of malice and wickedness, that we may always serve thee in pureness of living and truth; through the merits of the same thy Son Jesus Christ our Lord. Amen.
Source of Collect: Archbishop Cranmer [1549 AD]. This was originally used for the second communion, if any, on Easter. Lost in the 1552 revision, and restored in 1662. From 1 Cor v. 8 "Therefore let us keep the feast, not with old leaven, neither with the leaven of malice and wickedness; but with the unleavened bread of sincerity and truth." [Barbee and Zahl]
ALMIGHTY God, who through thine only-begotten Son Jesus Christ hast overcome death, and opened unto us the gate of everlasting life; We humbly beseech thee that, as by thy special grace preventing us thou dost put into our minds good desires, so by thy continual help we may bring the same to good effect; through the same Jesus Christ our Lord, who liveth and reigneth with thee and the Holy Ghost ever, one God, world without end. Amen.
1 St. John v. 4.; Psalms 110, 111 | 2, 57; John xx19
Homily of Augustine on Psalm CX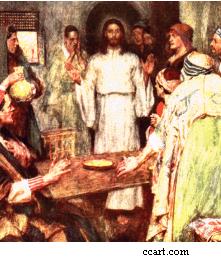 Peace be unto you: as my Father hath sent me, even so send I you.
---
BULLETIN
calendar
Annunciation – [Transferred to 1 April]
Joshua - Warrior and Judge of Israel - April 1
Deborah - Prophetess and Judge of Israel - April 3rd
Sampson - Warrior and Judge of Israel - April 5th
quotation
When we were baptized into Christ and clothed ourselves in him, we were transformed into the likeness of the Son of God. Having destined us to be his adopted sons, God gave us a likeness to Christ in his glory, and living as we do in communion with Christ, God's anointed, we ourselves are rightly called "the anointed ones". When he said: Do not touch my anointed ones, God was speaking of us. We became "the anointed ones" when we received the sign of the Holy Spirit. Indeed, everything took place in us by means of images, because we ourselves are images of Christ. Christ bathed in the river Jordan, imparting to its waters the fragrance of his divinity, and when he came up from them the Holy Spirit descended upon him, like resting upon like. So we also, after coming up from the sacred waters of baptism, were anointed with chrism, which signifies the Holy Spirit, by whom Christ was anointed and of whom blessed Isaiah prophesied in the name of the Lord: The Spirit of the Lord is upon me, because he has anointed me. He has sent me to preach good news to the poor.
see it all at the link below
[Cyril, the Friday in Easter Week, on Confirmation which was given on the Vigil of Easter immediately following baptism]
bidding prayer
In thanksgiving for the Resurrection, his promise, our hope, and renewal in answered prayers and new opportunities.
commentary
Augustine speaks of the Resurrection in his examination of Psalm CX this week:
"The Lord said unto my Lord, Sit Thou on My right hand"
We know that Christ sitteth at the right hand of the Father, since His resurrection from the dead, and ascent into heaven. It is already done: we saw not it, but we have believed it: we have read it in the Scripture, have heard it preached, and hold it by faith. So that by the very circumstance that Christ was David's Son, He became His Lord also. For That which was born of the seed of David was so honoured, that It was also the Lord of David. Thou wonderest at this, as if the same did not happen in human affairs. For if it should happen, that the son of any private person be made a king, will he not be his father's lord? What is yet more wonderful may happen, not only that the son of a private person, by being made a king, may become his father's lord; but that the son of a layman, by being made a Bishop, may become his father's father. So that in this very circumstance, that Christ took upon Him the flesh, that He died in the flesh, that He rose again in the same flesh, that in the same He ascended into Heaven, and sitteth on the right hand of His Father, in this same flesh so honoured, so brightened, so changed into a heavenly garb, He is both David's Son, and David's Lord....
Read it all at the link above.
Augustine has a very strong message here on the physical Resurrection of Jesus. That is our belief as stated in the Creed. We don't equivocate with rationalizations and twisting of the words to deny his physical Ressurection. On Easter Sunday I preached to a allied congregation, under a fellow centurion, that to be a Christian one must believe in the physical Resurrection of Christ - and the ultimate physical resurrection all Christians in Glory. For proof, I quoted Paul in Romans 10, if thou shalt confess with thy mouth the Lord Jesus, and shalt believe in thine heart that God hath raised him from the dead, thou shalt be saved and cited 1st Cor 15:14ff: if Christ be not risen, … your faith is also vain. Here is a very good article on this subject from Albert Mohler, where he digs into scripture and identifies some of the false prophets of today who teach various heredical beliefs. Beware!