Grace unto you, and peace, from God our Father and the Lord Jesus Christ
News of the Order and commentary appear after the Proper Collect, Epistle and Gospel

The Sixth Sunday after Trinity

O GOD, who hast prepared for those who love thee such good things as pass man's understanding; Pour into our hearts such love toward thee, that we, loving thee above all things, may obtain thy promises, which exceed all that we can desire; through Jesus Christ our Lord. Amen.
Collect Source: Sacrementary of Gelasius, Bishop of Rome [ca 494AD]. Inspired by 1 Corinthians ii. 9. (from Isaiah lxiv. 4)
Isaiah xxxi. 32, Psalms 28, 29 | 30, 31 , Romans vi. 3 & St. Matthew v. 20
Homily of Augustine on Psalm XXVIII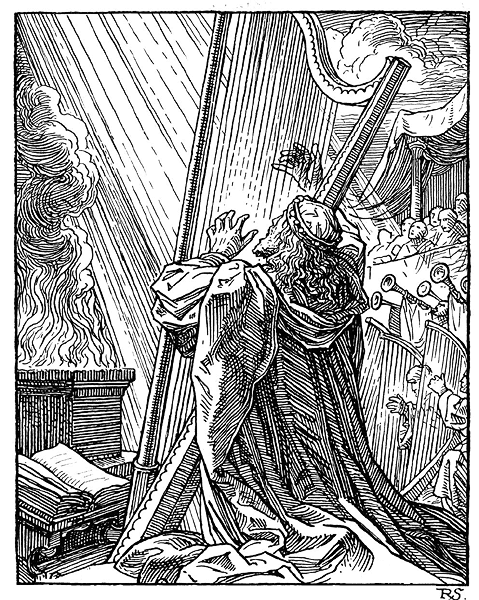 Recompense them after the work of their hands;
pay them that they have deserved. For they regard not in their mind the works of the LORD
---
BULLETIN
calendar
Peter the Apostle -- June 29th
quotation
If we would endeavor, like men of courage, to stand in the battle, surely we would feel the favorable assistance of God from Heaven. For he who giveth us occasion to fight, to the end we may get the victory, is ready to succor those at fight manfully, and do trust in his grace.
[Thomas a Kempis]
commentary
Recompense them after the work of their hands
Augustine expounds on Psalm xxviii in today's homily. He speaks of David's prayer for justice against those who do evil.
"Give unto them according to their works". Give unto them according to their works, for this is just. "And according to the malice of their affections." For aiming at evil, they cannot discover good. "According to the works of their hands give Thou unto them." Although what they have done may avail for salvation to others, yet give Thou unto them according to the works of their wills. "Pay them their recompense." Because, for the truth which they heard, they wished to recompense deceit; let their own deceit deceive them.
We find the same warning in our Old Testament reading from Isaiah xxxiii. 1, where it is written:
Woe to thee that spoilest, and thou wast not spoiled; and dealest treacherously, and they dealt not treacherously with thee! when thou shalt cease to spoil, thou shalt be spoiled; and when thou shalt make an end to deal treacherously, they shall deal treacherously with thee.
What did our Lord say? In Matthew he is quoted:
Woe unto the world because of offences! for it must needs be that offences come; but woe to that man by whom the offence cometh!
And he follows with the remedy:
Wherefore if thy hand or thy foot offend thee, cut them off, and cast them from thee: it is better for thee to enter into life halt or maimed, rather than having two hands or two feet to be cast into everlasting fire.
The Gospel of Jesus Christ calls sinners to repent and through faith to reform and turn to God. A church that fails to echo this call to righteousness is no Church of Christ, but is rather a Synagogue of Satan.
What can we learn from today's psalm, an the quotation of Thomas a Kempis? We have a battle at hand; it is against the Prince of this World and his minions. How can we fail if God be with us? We know God shall recompense the wicked.