ALMIGHTY God, who hast given us thy only-begotten Son to take our nature upon him, and as at this time to be born of a pure virgin; Grant that we being regenerate, and made thy children by adoption and grace, may daily be renewed by thy Holy Spirit; through the same our Lord Jesus Christ, who liveth and reigneth with thee and the same Spirit ever, one God, world without end. Amen.
Source: Archbishop Cranmer [1549]. [Barbee & Zahl] This is the same collect as is appointed for Christmas Day
Galatians iv. 1, Psalms 2, 8 | 89   &  St. Matthew i. 18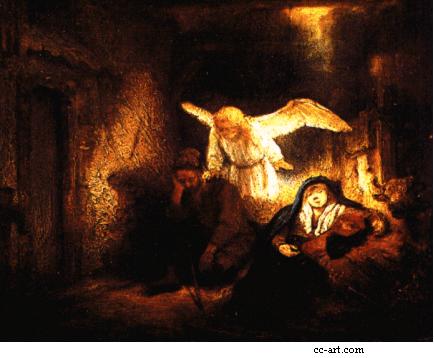 she was 'found' with child
Chrysostom wrote:
And wherefore did she not conceive before her espousal? It was, as I said at first, that what had been done might be concealed awhile, and that the Virgin might escape every evil suspicion. For when he, who had most right of all to feel jealousy, so far from making her a show, or degrading her, is found even receiving and cherishing her after her conception; it was quite clear that, unless he had fully persuaded himself that what was done was of the operation of the Holy Spirit, he would not have kept her with him, and ministered to her in all other things. And most properly hath he said, that "she was 'found' with child," the sort of expression that is wont to be used with respect to things strange, and such as happen beyond all expectation, and are unlooked for. Proceed therefore no further, neither require anything more than what hath been said; neither say thou, "But how was it that the Spirit wrought this of a virgin?" For if, when nature is at work, it is impossible to explain the manner of the formation; how, when the Spirit is working miracles, shall we be able to express these? And lest thou shouldest weary the evangelist, or disturb him by continually asking these things, he hath said who it was that wrought the miracle, and so withdrawn himself. "For I know," saith he, "nothing more, but that what was done was the work of the Holy Ghost."
Read it all at the link
Finis
--
Released by Primus Pilus--Sabbatical
Legio Christi-Ecclesia Militans
"Let us therefore follow after the things which make for peace, and things wherewith one may edify another" [St. Paul's Epistle to the Romans 14:19]
* ORDO CENTURIONUM * IN HOC SIGNO VINCES * TIME DEUM ET OPERARE IUSTITIAM