The Second Sunday after Trinity
O LORD, who never failest to help and govern those whom thou dost bring up in thy stedfast fear and love; Keep us, we beseech thee, under the protection of thy good providence, and make us to have a perpetual fear and love of thy holy Name; through Jesus Christ our Lord. Amen.
Deuteronomy xx. 1, Psalm 76, 1 St. John iii. 13 & St. Luke xiv . 16 & Homily
Go out quickly into the streets and lanes of the city, and bring in hither the poor, and the maimed, and the halt, and the blind.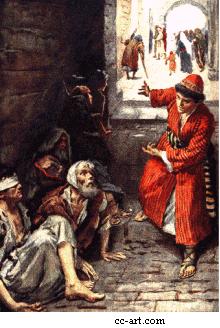 Announcements for the week beginning 5 June 05
NEW- Litany for Centurions

Feasts and Fasts

Ferdinand of Portugal, Knight, Crusader, Prince - June 6th [transferred]
Saint Barnabas the Apostle -- June 11th

Bulletin Insert -- pdf reader updated weekly by Religion.com

BIDDINGS

We bid your prayers for
Centurions in harms way,
for the Marine that our preafectus castrorum told us of with the head injugy,
for those preparing for deployment or special training,
for Peace in the Mideast
Please notice the link to a new Centurion's Litany that we commend for your use when praying for Centurions by name. The link is right after the name of centurions for this week.