Ascension Day
Forty Days after the Resurrection
John Chrysostom on Acts 1
GRANT, we beseech thee, Almighty God, that like as we do believe thy only-begotten Son our Lord Jesus Christ to have ascended into the heavens; so we may also in heart and mind thither ascend, and with him continually dwell, who liveth and reigneth with thee and the Holy Ghost, one God, world without end. Amen.
Daniel 7:9, Psalm 96, Acts i.1 St. Luke xxiv. 49.
Homilies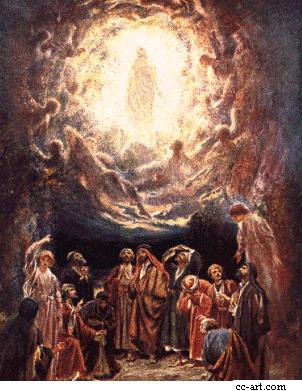 Ye shall receive power
For this feast day, I forward a reflection and blessing I received today from Centurion Tatomir of Romania for the Order upon the occasion of his anniversary in the Order of Centurions
THE ORDER OF CENTURIONS
The Peace of Christ, the head of Legio Christi may descend over all the Centurions. In this moment of membership anniversary our thoughts are directed toward the duties and responsibilities we hold as Centurions.
To be and rest One in Faith. Unum in fidem. Unum in Dominus Nostrum, Jesus.
To be walls of resistance against the moral falling touching our communities.
To drink from the river of evangelic purity and stand against the darkness which covers many eyes and souls. To bring Light and to serve with our means the purpose of existence:
Praise the Lord and the Name of the Lord, serve Christ through charity and courage.
Christ is forgiveness, strength and wisdom.
The blessings may come over all the Centurions, over Superiors-Primus Pilus, Praefectus Castrorum, Aquilifer, Labarum Guardum, Cohorts, etc.
Pax in cælo, pax in terra, pax in omni populo pax sacerdotibus ecclesiarum Dei! Pax Christi et Ecclesiæ maneat semper vobiscum!
V
IN HOC SIGNO VINCES - TIME DEUM ET OPERARE IUSTITIAM