CALENDAR
Maximilian, Legionary, Martyr - March 12th
Longinus, Centurion at Calvary, Martyr - March 15th
Marinus, Optio, Martyr -- March 17
This homily for this week comes from John Chrysostom on the parallel passages of Matthew on the accusation of Jesus had cast out evil spirits by the power of Satan. I've placed an excerpt, his bottom line, below the artwork. It is a message that all Christians need to take to heart, especially in this period of Lent.
The Third Sunday in Lent
Homily of John Chrysostom on the parallel Gospel in Matthew xii. 22-32
Third Sunday in Lent Home
WE beseech thee, Almighty God, look upon the hearty desires of thy humble servants, and stretch forth the right hand of thy Majesty, to be our defence against all our enemies; through Jesus Christ our Lord. Amen.
ALMIGHTY and everlasting God, who hatest nothing that thou hast made, and dost forgive the sins of all those who are penitent; Create and make in us new and contrite hearts, that we, worthily lamenting our sins and acknowledging our wretchedness, may obtain of thee, the God of all mercy, perfect remission and forgiveness; through Jesus Christ our Lord. Amen.
[Collect of Ash Wednesday said daily until Palm Sunday]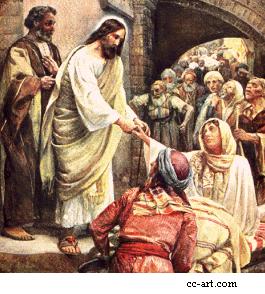 And whosoever speaketh a word against the Son of man, it shall be forgiven him: but whosoever speaketh against the Holy Ghost, it shall not be forgiven him, neither in this world, neither in the world to come .
---
An Excerpt from Chrysostom's homily on Matthew 12:22-32
6. But if thou desire not to be punished even here, pass judgment on thyself, exact thine own penalty. Listen to Paul, when he saith, "If we would judge ourselves, we should not be judged." If thou do this, proceeding in order thou shalt even arrive at a crown.
But how are we to exact our own penalty? one may ask.
Lament, groan bitterly, humble, afflict thyself, call to remembrance thy sins in their particulars. This thing is no small torture to a man's soul. If any man hath been in a state of contrition, he knows that the soul is punished by this more than anything. If any hath been living in remembrance of sins, he knows the anguish thence arising. Therefore doth God appoint righteousness as a reward for such repentance, saying, "Be thou first to tell thy sins, that thou mayest be justified." For it is not, it is not indeed, a small step towards amendment, to lay together all our sins, and to be continually revolving and reckoning them up with their particulars. For he that is doing this will be so heart-broken, as not to think himself worthy so much as to live; and he that thinks thus, will be tenderer than any wax. For tell me not of acts of fornication only, nor of adulteries, nor of these things that are manifest, and acknowledged amongst all men: but lay together also thy secret crafts, and thy false accusations, and thine evil speakings, and thy vain gloryings, and thine envy, and all such things. For neither will these bring a trifling punishment. For the reviler too shall fall into hell; and the drunkard hath no part in the kingdom; and he that lovest not his neighbor so offends God, as to find no help even in his own martyrdom; and he that neglects his own hath denied the faith, and he who overlooks the poor is sent into the fire.
Account not then these things to be little, but put all together, and write them as in a book. For if thou write them down, God blots them out; even as on the other hand, if thou omit writing them, God both inscribes them, and exacts their penalty. It were then far better for them to be written by us, and blotted out above, than on the contrary, when we have forgotten them, for God to bring them before our eyes in that day.
Therefore that this may not be so, let us reckon up all with strictness, and we shall find ourselves answerable for much. For who is clear from covetousness? Nay, tell me not of the quantity, but since even in a small amount we shall pay the same penalty, consider this and repent. Who is rid of all insolence? Yet this casts into hell. Who hath not secretly spoken evil of his neighbor? Yet this deprives one of the Kingdom. Who hath not been self-willed? Yet this man is more unclean than all. Who hath not looked with unchaste eyes? Yet this is a complete adulterer. Who hath not been "angry with his brother without a cause"? Yet such an one is "in danger of the council." Who hath not sworn? Yet this thing is of the evil one. Who hath not forsworn himself? but this man is something more than of the evil one. Who hath not served mammon? but this man is fallen away from the genuine service of Christ.
I have also other things greater than these to mention: but even these are enough, and able, if a man be not made of stone, nor utterly past feeling, to bring him to compunction. For if each one of them casts into hell, what will they not bring to pass when all are met together?
How then can one be saved? it may be asked. By application of the countervailing remedies: alms, prayers, compunction, repentance, humility, a contrite heart, contempt of possessions. For God hath marked out for us innumerable ways of salvation, if we be willing to attend. Let us then attend, and let us every way cleanse out our wounds, showing mercy, remitting our anger against them that have displeased us, giving thanks for all things to God, fasting according to our power, praying sincerely, "making unto ourselves friends of the mammon of unrighteousness." For so shall we be able to obtain pardon for our offenses, and to win the promised good things; whereof may we all be counted worthy, by the grace and love toward man of our Lord Jesus Christ, to whom be glory and might forever and ever. Amen.
--
"Let us therefore follow after the things which make for peace, and things wherewith one may edify another" [St. Paul's Epistle to the Romans 14:19]
IN HOC SIGNO VINCES - TIME DEUM ET OPERARE IUSTITIAM
www.OrderofCenturions.org