Peter and Paul
Apostles - Martyrs
[29 June]
Homily from Clement the First, Bishop of Rome
Peter Home
Almighty God, whose blessed apostles Peter and Paul glorified thee by their martyrdom: Grant that thy Church, instructed by their teaching and example, and knit together in unity by thy Spirit, may ever stand firm upon the one foundation, which is Jesus Christ our Lord; who liveth and reigneth with thee, in the unity of the same Spirit; one God, for ever and ever. Amen
On June 29, 258 AD, Christians of Rome transferred the remains of Peter and Paul to the Catacombs on the Appian way. From that time on, the Roman Christian calendars commemorated that event with a feast. It is held by some that Peter and Paul were martyred in the first Roman porgrom under Emperor Nero who is believed to have burned Rome in July 64 AD for his own entertainment while he fiddled. Nero blamed the Christians. There followed a great outrage in the city against the Christians, resulting in the deaths of many. "According to the historian Tacitus, a great multitude of Christians was put to death because of their hatred of the human race. Peter and Paul were probably among the victims."
Ezekiel xxxiv. 11, II Tim iv. 1, Psalm lxxxvii, John xxi. 15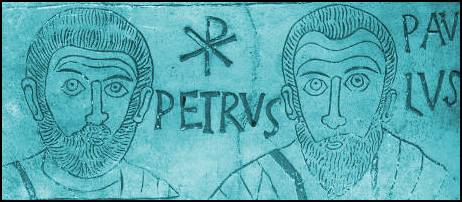 ---
Ezekiel xxxiv. 11
For thus saith the Lord GOD; Behold, I, even I, will both search my sheep, and seek them out. As a shepherd seeketh out his flock in the day that he is among his sheep that are scattered; so will I seek out my sheep, and will deliver them out of all places where they have been scattered in the cloudy and dark day. And I will bring them out from the people, and gather them from the countries, and will bring them to their own land, and feed them upon the mountains of Israel by the rivers, and in all the inhabited places of the country. I will feed them in a good pasture, and upon the high mountains of Israel shall their fold be: there shall they lie in a good fold, and in a fat pasture shall they feed upon the mountains of Israel. I will feed my flock, and I will cause them to lie down, saith the Lord GOD. I will seek that which was lost, and bring again that which was driven away, and will bind up that which was broken, and will strengthen that which was sick: but I will destroy the fat and the strong; I will feed them with judgment.
II Timothy iv. 1
I charge thee therefore before God, and the Lord Jesus Christ, who shall judge the quick and the dead at his appearing and his kingdom; Preach the word; be instant in season, out of season; reprove, rebuke, exhort with all longsuffering and doctrine. For the time will come when they will not endure sound doctrine; but after their own lusts shall they heap to themselves teachers, having itching ears; And they shall turn away their ears from the truth, and shall be turned unto fables. But watch thou in all things, endure afflictions, do the work of an evangelist, make full proof of thy ministry. For I am now ready to be offered, and the time of my departure is at hand. I have fought a good fight, I have finished my course, I have kept the faith: Henceforth there is laid up for me a crown of righteousness, which the Lord, the righteous judge, shall give me at that day: and not to me only, but unto all them also that love his appearing.
John xxi. 15
So when they had dined, Jesus saith to Simon Peter, Simon, son of Jonas, lovest thou me more than these? He saith unto him, Yea, Lord; thou knowest that I love thee. He saith unto him, Feed my lambs. He saith to him again the second time, Simon, son of Jonas, lovest thou me? He saith unto him, Yea, Lord; thou knowest that I love thee. He saith unto him, Feed my sheep. He saith unto him the third time, Simon, son of Jonas, lovest thou me? Peter was grieved because he said unto him the third time, Lovest thou me? And he said unto him, Lord, thou knowest all things; thou knowest that I love thee. Jesus saith unto him, Feed my sheep. Verily, verily, I say unto thee, When thou wast young, thou girdedst thyself, and walkedst whither thou wouldest: but when thou shalt be old, thou shalt stretch forth thy hands, and another shall gird thee, and carry thee whither thou wouldest not. This spake he, signifying by what death he should glorify God. And when he had spoken this, he saith unto him, Follow me.
---
HOMILY
Clemens Romunus

It was through envy and jealousy that the greatest and most upright pillars of the Church were persecuted and struggled unto death.... First of all, Peter, who because of unreasonable jealousy suffered not merely once or twice but many times, and, having thus given his witness, went to the place of glory that he deserved. It was through jealousy and conflict that Paul showed the way to the prize for perseverance. He was put in chains seven times, sent into exile, and stoned; a herald both in the east and the west, he achieved a noble fame by his faith....

Around these men with their holy lives there are gathered a great throng of the elect, who, though victims of jealousy, gave us the finest example of endurance in the midst of many indignities and tortures. Through jealousy women were tormented, like Dirce or the daughters of Danaus, suffering terrible and unholy acts of violence. But they courageously finished the course of faith and despite their bodily weakness won a noble prize.