News of the Order and commentary appear after the Proper Collect, Epistle and Gospel
The Twenty-fourth Sunday after Trinity
Augustine on Psalm 129

O LORD, we beseech thee, absolve thy people from their offences; that through thy bountiful goodness we may all be delivered from the bands of those sins, which by our frailty we have committed. Grant this, O heavenly Father, for the sake of Jesus Christ, our blessed Lord and Saviour. Amen.
Source: Sacramentary of Bishop Leo of Rome [461] and of Gregory. Traditionally said the Sunday week before the penitential season of Advent, It begs God for absolution. Today's Gospel echos this theme as the woman was released from her bands of infirmity through faith [Barbee and Zahl]
Malachi iii. 13, Psalm 129, 130, 131 | 144, 145, Colossians i. 3 & St. Matthew ix. 18
Homilies


Daughter, be of good comfort; thy faith hath made thee whole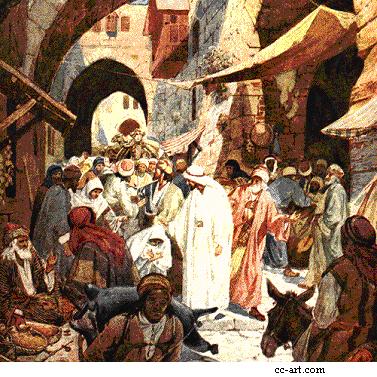 See the lessons, hymns, more prayers, and homily at these links
BULLETIN
quotation
Indeed for us murder is forbidden once and for all, so it is not permitted even to destroy what is conceived in the womb. To prohibit the birth of a child is only a faster way to murder; it makes little difference whether one destroys a life already born or prevents it from coming to birth. It is a human being, who is to be a human being, for the whole fruit is already present in the seed.
[Tertullian Apologeticum ch. 9, 8, translated by Glover and www.Tertullian.org]
calendar
Edmund, King and Martyr November 20th
news
A centurion sent me a file on the Government of Rome , although I cannot place his name or locate his email now, we thank him for this contribution. I've posted the survey prepared by a university professor to the Order's site for limited individual use and have linked it to "Articles" on our links page. Very interesting.
commentary
Psalm 129 is addressed this day by Augustine in the homily selected for this day. I was lifted up in reading his exegesis and exhortations. Sometimes the bottom line is the best, and so I considered this one.
But they who say, None save God sanctifieth, nor is any man good save by the gift of God; they bless in the name of the Lord, not in their own name: because they are the friends of the bridegroom, they refuse to be adulterers of the bride.
I am reminded of one of the customs that I learned through my Church, which has come down from the time before Augustine, and that is the exchange of the peace in the Eucharist where the proper salutation is not what one would find at a football game or cocktail party, but rather a blessing in the form of a salutation between churchmen such as " The Peace of the Lord be with you", or "God's Peace", or " Shalom", and a sign of God's Peace such as the kiss of peace. C ompare Ruth ii. 4&5 where Boaz greets his workers with a blessing in the LORD's name, and his workers respond with, "The Lord bless you."
bidding
For our centurions in harms way: for Mike, Bryon, Lehman, Doug, Christopher, George, ( and others in your heart)…..
Salve
msc
--
"Let us therefore follow after the things which make for peace, and things wherewith one may edify another" [St. Paul's Epistle to the Romans 14:19]
IN HOC SIGNO VINCES - TIME DEUM ET OPERARE IUSTITIAM
www.OrderofCenturions.org
--
"Let us therefore follow after the things which make for peace, and things wherewith one may edify another" [St. Paul's Epistle to the Romans 14:19]
IN HOC SIGNO VINCES - TIME DEUM ET OPERARE IUSTITIAM
www.OrderofCenturions.org