Twelfth Sunday after Trinity
Grace unto you, and peace, from God our Father and the Lord Jesus Christ
News of the Order and commentary appear after the Proper Collect, Epistle and Gospel
ALMIGHTY and everlasting God, who art always more ready to hear than we to pray, and art wont to give more than either we desire or deserve; Pour down upon us the abundance of thy mercy; forgiving us those things whereof our conscience is afraid, and giving unto us that that our prayer dare not presume to ask, through Jesus Christ our Lord. Amen.
Source of Collect: Leo [460], revised by Gelasius [494]. (An 1662 revision by Bishop Cosin added and giving us those good things which we are not worthy to ask, but through the merits and mediation of Jesus Christ, thy Son, our Lord. [Barbee and Zahl]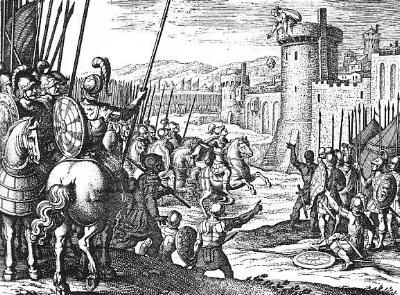 Behold, Sheba's head shall be thrown to thee over the wall
WEEKLY BULLETIN
calendar
Florence Nightingale, Nurse to Combatants - August 13
Ursakios, Tribune, Martyr -- August 14 [286-305]
quotation
"God is for our Captain, the devil a deserter: the Captain gave a commandment, the deserter suggested guile: where were thine ears between precept and deceit?"
[St. Augustine]
news
Archeologists in Jerusalem have discovered seals of two priests who in the Scriptures advised King Hezekiah to kill the prophet Jeremiah.
The article appears in the Jerusalem Post
commentary
The theme of the psalm, OT Lesson, and part of Augustine's examination of the psalm is rebellion. I believe many have rebelled against God's Word and authority and are clearly being led astray in beliefs and actions. How is this? What is afoot?

Our psalm for today's homily of Augustine is
Psalm LXXI
. Based on several verses, one gathers that David wrote this psalm at an old age. The adversary here could well be Sheba son of Bichri cited this day [2nd Sam XX], and the artwork, concern Sheba's rebellion and death.
In thinking on this rebellion, I recall the 1662 change in the Litany of the Prayer Book that the loyalist added when the English monarchy was restored

"From all sedition, privy conspiracy, and rebellion..."

This verse was added to the existing phrase which already spoke of the rebellion against God and Christ's Church and read:


"From all false doctrine, heresy, and schism; from hardness of heart, and contempt of thy Word and Commandment,
Good Lord deliver us."

Today this rebellion comes from those who pledged to defend the faith, and yet they do not believe, or else have weak faith, in the tenets of Christianity. David in his old age said, "Thou has taught me from my youth". I am concerned that in very many denominations folk send believing youth off to a seminary where they are taught cynicism and not to believe the biblical accounts of Christ's miraculous healing and work on earth. Why? How is this? What is afoot?

Augustine addresses this issue in his homily
as shown below:
"O God, Thou hast taught me from my youth." From the very beginning of my faith, wherewith Thou hast renewed me, Thou didst teach me that nothing had preceded in me, whence I might say that there was owing to me what Thou hast given. For who is turned to God save from iniquity? Who is redeemed save from captivity? But who can say that unjust was his captivity, when he forsook his Captain and fell off to the deserter? God is for our Captain, the devil a deserter: the Captain gave a commandment, the deserter suggested guile: where were thine ears between precept and deceit? was the devil better than God? Better he that revolted than He that made thee? Thou didst believe what the devil promised, and didst find what God threatened. Now then out of captivity being delivered, still however in hope, not yet in substance, walking by faith, not yet by sight, "O God," he saith, "Thou hast taught me from my youth." From the time that I have been turned to Thee, renewed by Thee who had been made by Thee, re-created who had been created, re-formed who had been formed: from the time that I have been converted, I have learned that no merits of mine have preceded, but that Thy grace hath come to me gratis, in order that I might be mindful of Thy righteousness alone.
Keeping the faith, and defending against rebellion and assaults on the Church is a very real issue today, more so than in any period in the recent past. Secular influences in the West are taking a toll on churchmanship and faith, and the threat is very real. Much of it comes from within as I have stated above. This Order was formed to defend against that very threat. Now, upon the 5th Anniversary of the Order on the Feast of St Michael the Archangel, God willing, we will open the Academy of Centurions Theological School to our members to assist in tracking their progress in auditing certified courses from accredited schools of theology, and will feature master's-level seminary courses that I believe keep the faith once given - that which is "merely Christian", and will train up centurions to defend against the adversary. For those who never felt they had the opportunity or means to participate in quality theological training, please consider enrolling for a course, or in pursuing a Theological Diploma by completing the series of classes offered.
Finis