Note: the homily extract of Augustine is new this year
Thanksgiving Day 
Augustine on the Gospel 
Thanksgiving Home
O MOST merciful Father, who hast blessed the labours of the husbandman in the returns of the fruits of the earth; We give thee humble and hearty thanks for this thy bounty; beseeching thee to continue thy loving-kindness to us, that our land may still yield her increase, to thy glory and our comfort; through Jesus Christ our Lord. Amen.
 O PRAISE the LORD, for it is a good thing to sing praises unto our God;     * yea, a joyful and pleasant thing it is to be thankful. The LORD doth build up Jerusalem, * and gather together the outcasts of Israel. He healeth those that are broken in heart, * and giveth medicine to heal their sickness. O sing unto the LORD with thanksgiving; * sing praises upon the harp unto our God: Who covereth the heaven with clouds, and prepareth rain for the earth;     * and maketh the grass to grow upon the mountains, and herb for the use of men; Who giveth fodder unto the cattle, * and feedeth the young ravens that call upon him. Praise the LORD, O Jerusalem; * praise thy God, O Sion. For he hath made fast the bars of thy gates, * and hath blessed thy children within thee. He maketh peace in thy borders, * and filleth thee with the flour of wheat. Glory be to the Father, and to the Son, * and to the Holy Ghost; As it was in the beginning, is now, and ever shall be, * world without end. Amen. 
---
Deut xxvi. 1, Psalm 145, St. James i. 16   &   St. Matthew vi. 25
Homilies
seek ye first the kingdom of God, and his righteousness; and all these things shall be added unto you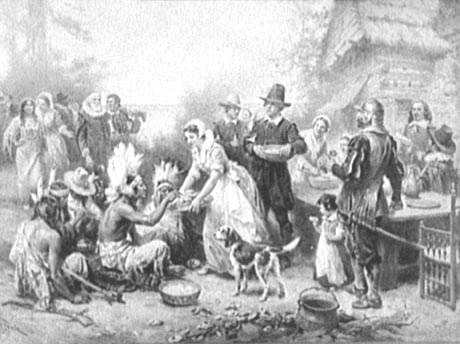 ---
---
Let us pray: 

For Grace to honor God with our Substance.
O Lord God, to whom belongeth the earth and the fulness thereof; Give us grace to honor thee with our substance, and with the first-fruits of all our increase; that we may be blessed in the use of thy gifts, and sanctified to thy service, through Jesus Christ our Lord. Amen.
---



Augustine
Matthew vi 28 


Hence this whole precept is reduced to the following rule, that even in looking after such things we should think of the kingdom of God, but in the service of the kingdom of God we should not think of such things. For in this way, although they should sometimes be wanting (a thing which God often permits for the purpose of exercising us), they not only do not weaken our proposition, but even strengthen it, when it is examined and tested. For, says He, "we glory in tribulations also; knowing that tribulation worketh patience, and patience experience, and experience hope: And hope maketh not ashamed, because the love of God is shed abroad in our hearts by the Holy Ghost which is given unto us." Now, in the mention of his tribulations and labours, the same apostle mentions that he has had to endure not only prisons and shipwrecks and many such like annoyances, but also hunger and thirst, cold and nakedness. But when we read this, let us not imagine that the promises of God have wavered, so that the apostle suffered hunger and thirst and nakedness while seeking the kingdom and righteousness of God, although it is said to us, "Seek ye first the kingdom of God and His righteousness; and all these things shall be added unto you:" since that Physician to whom we have once for all entrusted ourselves wholly, and from whom we have the promise of life present and future, knows such things just as helps, when He sets them before us, when He takes them away, just as He judges it expedient for us; whom He rules and directs as parties who require both to be comforted and exercised in this life, and after this life to be established and confirmed in perpetual rest. For man also, when he frequently takes away the fodder from his beast of burden, is not depriving it of his care, but rather does what he is doing in the exercise of care.
[NPNF (V1-06) ch XVII. 58.]
---
--
Released by Primus Pilus
Legio Christi-Ecclesia Militans
"Let us therefore follow after the things which make for peace, and things wherewith one may edify another" [St. Paul's Epistle to the Romans 14:19]
* ORDO CENTURIONUM * IN HOC SIGNO VINCES * TIME DEUM ET OPERARE IUSTITIAM