O LORD, raise up, we pray thee, thy power, and come among us, and with great might succour us; that whereas, through our sins and wickedness, we are sore let and hindered, thy bountiful grace and mercy may speedily help and deliver us; through Jesus Christ our Lord, to whom, with thee and the Holy Ghost, be honour and glory, world without end. Amen. 

Source: Bishop Gelasius of Rome Sacramentary [464 AD]. The 1662 edition added the "running the race that is before us" "Succor" is to run to help, while "sore let" is to thwart, hinder
Isaiah xl. 1, Psalm 80, Philippians iv. 4   &  St. John i. 19.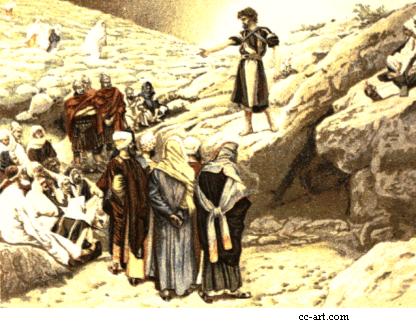 I am not the Christ.
__________
Augustine wrote of the Gospel
You have very often heard, holy brethren, and you know well, that John the Baptist, in proportion as he was greater than those born of women, and was more humble in his acknowledgment of the Lord, obtained the grace of being the friend of the Bridegroom; zealous for the Bridegroom, not for himself; not seeking his own honor, but that of his Judge, whom as a herald he preceded. Therefore, to the prophets who went before, it was granted to predict concerning Christ; but to this man, to point Him out with the finger. For as Christ was unknown by those who did not believe the prophets before He came, He remained unknown to them even when present. For He had come humbly and concealed from the first; the more concealed in proportion as He was more humble: but the people, despising in their pride the humility of God, crucified their Saviour, and made Him their condemner. 

But will not He who at first came concealed, because humble, come again manifested, because exalted? You have just listened to the Psalm: "God shall come manifestly, and our God shall not keep silence." He was silent that He might be judged, He will not be silent when He begins to judge. It would not have been said, "He will come manifestly," unless at first He had come concealed; nor would it have been said, "He shall not keep silence," unless He had first kept silence. How was He silent? Interrogate Isaiah: "He was brought as a sheep to the slaughter, and as a lamb before his shearer was dumb, so He opened not His mouth." "But He shall come manifestly, and shall not keep silence." In what manner "manifestly"? "A fire shall go before Him, and round about Him a strong tempest." That tempest has to carry away all the chaff from the floor, which is now being threshed; and the fire has to burn what the tempest carries away. But now He is silent; silent in judgment, but not silent in precept. For if Christ is silent, what is the purpose of these Gospels? what the purpose of the voices of the apostles, what of the canticles of the Psalms, what of the declarations of the prophets? In all these Christ is not silent. But now He is silent in not taking vengeance: He is not silent in not giving warning. But He will come in glory to take vengeance, and will manifest Himself even to all who do not believe on Him. But now, because when present He was concealed, it behoved that He should be despised. For unless He had been despised, He would not have been crucified; if He had not been crucified, He would not have shed His blood-the price by which He redeemed us. But that He might give a price for us, He was crucified; that He might be crucified, He was despised; that He might be despised, He appeared in humility. 

Yet because He appeared as it were in the night, in a mortal body, He lighted for Himself a lamp by which He might be seen. That lamp was John, concerning whom you lately heard many things: and the present passage of the evangelist contains the words of John; in the first place, and it is the chief point, his confession that he was not the Christ. But so great was the excellence of John, that men might have believed him to be the Christ: and in this he gave a proof of his humility, that he said he was not when he might have been believed to have been the Christ; therefore, "This is the testimony of John, when the Jews sent priests and Levites to him from Jerusalem to ask him, Who art thou?" But they would not have sent unless they had been moved by the excellence of his authority who ventured to baptize. "And he confessed, and denied not." What did he confess? "And he confessed, I am not the Christ." 
Read it all at the link above.
FINIS
 
Released by Primus Pilus
Legio Christi-Ecclesia Militans
"Let us therefore follow after the things which make for peace, and things wherewith one may edify another" [St. Paul's Epistle to the Romans 14:19]

* ORDO CENTURIONUM * IN HOC SIGNO VINCES * TIME DEUM ET OPERARE IUSTITIAM