At Morning Prayer: Cyprian on the Lord's Prayer Matthew vi. 11. 


O LORD, who for our sake didst fast forty days and forty nights; Give us grace to use such abstinence, that, our flesh being subdued to the Spirit we may ever obey thy godly motions in righteousness, and true holiness, to thy honour and glory, who livest and reignest with the Father and the Holy Ghost, one God, world without end. Amen. 

ALMIGHTY and everlasting God, who hatest nothing that thou hast made, and dost forgive the sins of all those who are penitent; Create and make in us new and contrite hearts, that we, worthily lamenting our sins and acknowledging our wretchedness, may obtain of thee, the God of all mercy, perfect remission and forgiveness; through Jesus Christ our Lord. Amen. 


At Morning Prayer: Isaiah lviii   St. Matthew vi. 1ff
In this manner, therefore, pray: Our Father...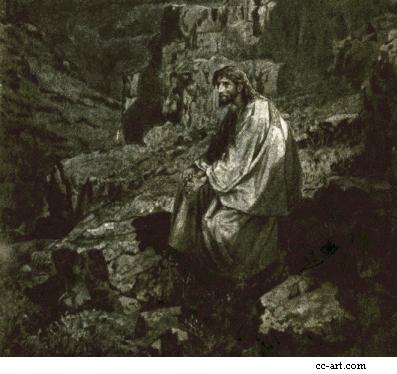 ---
 




COMMENT

This Sunday I have selected a set of readings that are used at Morning Prayer on the first Sunday in Lent. They deal with the topics of alms, fasting, and prayer. The Church has emphasized these activities during Lent, and they were practices of our Lord's day in seasons of fasting. However, as Isaiah and our Lord noted, the practices were perverted and self-serving; people employed them to bring credit on themselves in the eyes of their fellows. As Jesus observed such, he made it plain those who did so "already had their reward" in the admiration they gained from others. On the other hand, he commanded us in how we ought to go about our work of prayer, alms, and fasting.

Let us turn to our guest preacher this day: Cyprian, Bishop of Carthage (martyred Sept 14, 258)

9. But what matters of deep moment are contained in the Lord's prayer! How many and! How great, briefly collected in the words, but spiritually abundant in virtue! so that there is absolutely nothing passed over that is not comprehended in these our prayers and petitions, as in a compendium of heavenly doctrine. "After this manner," says He, "pray ye: Our Father, which art in heaven." The new man, born again and restored to his God by His grace, says "Father," in the first place because he has now begun to be a son. "He came," He says, "to His own, and His own received Him not. But as many as received Him, to them gave He power to become the sons of God, even to them that believe in His name." The man, therefore, who has believed in His name, and has become God's son, ought from this point to begin both to give thanks and to profess himself God's son, by declaring that God is his Father in heaven; and also to bear witness, among the very first words of his new birth, that he has renounced an earthly and carnal father, and that he has begun to know as well as to have as a father Him only who is in heaven, as it is written: "They who say unto their father and their mother, I have not known thee, and who have not acknowledged their own children these have observed Thy precepts and have kept Thy covenant. Also the Lord in His Gospel has bidden us to call "no man our father upon earth, because there is to us one Father, who is in heaven." And to the disciple who had made mention of his dead father, He replied, "Let the dead bury their dead; " for he had said that his father was dead, while the Father of believers is living. 

The full text of Cyprian's homily is at the link above, and it is a very long one. I would encourage all to read it this week, and to practice in this period of Lent what our Lord commanded us to do in terms of our alms, fasting, and prayer this season. I would suggest that you lay aside a certain amount day-by-day in these 40 days, and at Easter, give your alms to a worthy charitable cause of your choosing. One that is on the top of my mind this year is for the folk in Haiti who survived the earthquake and only through a legitimate organization.

I encourage you also to take up a structured use of the Lord's prayer, if you have not done so already, in obedience to our Lord's commandment in this Gospel. Years after Cyprian's death, Augustine was bishop in Africa in Hippo. In his writings he encouraged all to use the Lord's prayer thrice daily, and the Creed twice.

Be cautious to make your prayers and alms giving a matter between you and your heavenly Father, and not of public display, that your reward might be great in Heaven.

Lastly, in following the words of Isaiah in the Old Testament reading, make this fast one of justice, compassion, and mercy through your daily intercourse with family, friends, associates, and yes, even your perceived personal enemies.
---
Historical Note: The Church has always followed our Lord's commandment to use this prayer, and to use "Father" to address God the Father. In the latter portion of the 20th century certain heretics began to substitute other names for "Father" in disobedience. This was a result of the influence of the political and social feminist movement of these latter days, but is not accepted as an authorized substitute for the words given to the Church in the Gospels. I believe that no orthodox-catholic believer would do so. See more here.
Finis
--
Released by Primus Pilus
Legio Christi-Ecclesia Militans
"Let us therefore follow after the things which make for peace, and things wherewith one may edify another" [St. Paul's Epistle to the Romans 14:19]
* ORDO CENTURIONUM * IN HOC SIGNO VINCES * TIME DEUM ET OPERARE IUSTITIAM