Augustine on the Gospel
O GOD, who declarest thy almighty power chiefly in showing mercy and pity; Mercifully grant unto us such a measure of thy grace, that we may obtain thy gracious promises, and be made partakers of thy heavenly treasure; through Jesus Christ our Lord. Amen.
Source: Gelasius [492-496]. This is the orignial as Cranmer translated it faithfully, It it was altered in the 1662 update by adding the phrase " running the way of thy commandments" The Collect's emphasis on Grace, compliments the story of the Pharisee and the Publican praying in today's Gospel story from Luke. Latin
Isaiah xxvi. 12, Psalm 125, 1 Corinthians xv. 1    St. Luke xviii. 9

Homily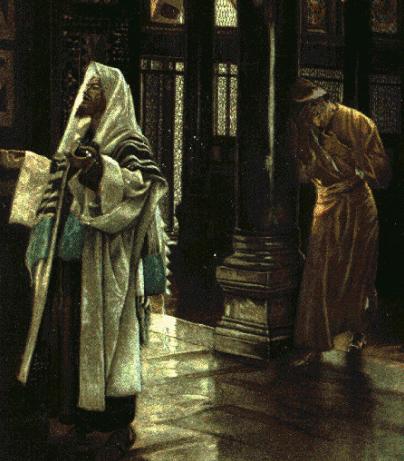 cc-art.com
This man went down to his house justified
Comment
Augustine on the Gospel...
But inasmuch as faith belongs not to the proud, but to the humble, "He spake this parable unto certain who seemed to themselves to be righteous, and despised others. Two men went up into the temple to pray, the one a Pharisee, and the other a publican. The Pharisee said, God, I thank Thee that I am not as the rest of men." He might at least have said, "as many men." What does, "as the rest of men," mean, but all except himself? "I," he says, "am just, the rest are sinners." "I am not as the rest of men, unjust, extortioners, adulterers." And, lo, from thy neighbour, the publican, thou takest occasion of greater pride. "As," he says, "this publican." "I," he says, "am alone, he is of the rest." "I am not," says he, "such as he is, through my righteous deeds, whereby I have no unrighteousness." "I fast twice in the week, I give tithes of all that I possess." In all his words seek out for any one thing that he asked of God, and thou wilt find nothing. He went up to pray: he had no mind to pray to God, but to laud himself. Nay, it is but a small part of it, that he prayed not to God, but lauded himself. More than this he even mocked him that did pray. "But the Publican stood afar off;" and yet he was in deed near to God. The consciousness of his heart kept him off, piety brought him close. "But the Publican stood afar off:" yet the Lord regarded him near. "For the Lord is high, yet hath He respect unto the lowly." But "those that are high" as was this Pharisee, "He knoweth afar off. "The high" indeed "God knoweth afar off," but He doth not pardon them. Hear still more the humility of the Publican. It is but a small matter that he stood afar off; "he did not even lift up his eyes unto heaven." He looked not, that he might be looked upon. He did not dare to look upwards, his conscience pressed him down: but hope lifted him up. Hear again, "he smote his breast." He punished himself: wherefore the Lord spared him for his confession. "He smote his breast, saying, Lord, be merciful to me a sinner." See who he is that prays. Why dost thou marvel that God should pardon, when he acknowledges his own sin? Thus thou hast heard the cases of the Pharisee and Publican; now hear the sentence; thou hast heard the proud accuser, thou hast heard the humble criminal; hear now the Judge. "Verily I say unto you." The Truth saith, God saith, the Judge saith it. "Verily I say unto you, That Publican went down from the temple justified rather than that Pharisee." Tell us, Lord, the cause. Lo! I see that the publican goes down from the temple justified rather than the Pharisee. I ask why? Dost thou ask why? Hear why. "Because every one that exalteth himself shall be abased, and he that humbleth himself shall be exalted." Thou hast heard the sentence, beware of its evil cause. In other words, thou hast heard the sentence, beware of pride..... [read it all at the link]
I  had occasion this morning to preach on pride-and pride is the root sin at work in this story. It is likely the greatest of all sin, and leads to so much pain in this world.  We of the West live in a culture that thrives on Pride. You can read of it in the grocery line; it dominates the popular magazines, and is based on the fringe celebrity cult that so attracts this lost generation.  The shrinks, in their way, have labeled this sin as "
Narcissistic Personality Disorder"
. The article at the link says, "
The cause of this disorder is unknown
".  Unknown to whom?-not unknown to this centurion. It will always be the Sin that our Lord called it, and those who live by it shall go down unjustified. No one is immune from it, and we all have pride that affects us to a greater or lesser degree, some are completely slaves to it and it colors all they do so that is is called a disorder. It is within each of us as original sin conveyed from the Sin of Adam. We cannot of ourselves master it; only through faith and that measure of grace that God grants to us, as Gelasius prayed in today's collect, may we obtain his gracious promise of life and that promised freedom from the domination of the sin of Pride.
The Christians are right: it is Pride which has been the chief cause of misery in every nation and every family since the world began. 
[CS Lewis, Mere Christianity. I encourage you to read 
more here]
Finis
Released by Primus Pilus
Legio Christi-Ecclesia Militans
"Let us therefore follow after the things which make for peace, and things wherewith one may edify another" [St. Paul's Epistle to the Romans 14:19]
* ORDO CENTURIONUM * IN HOC SIGNO VINCES * TIME DEUM ET OPERARE IUSTITIAM