ALMIGHTY God, who seest that we have no power of ourselves to help ourselves; Keep us both outwardly in our bodies, and inwardly in our souls; that we may be defended from all adversities which may happen to the body, and from all evil thoughts which may assault and hurt the soul; through Jesus Christ our Lord. Amen.
Source: Sacrementary of Gregory - Bishop of Rome. [600 AD] The petition is not only for assualts from without, but also from within.
1 Kings viii. 37 Psalm 6, 38 | 119:33–72   1 Thessalonians iv. 1. & St. Matthew xv. 21 

Homilies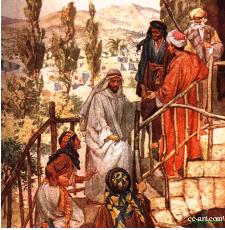 And her daughter was made whole from that very hour
Chrysostom wrote:
The evangelist speaks against the woman, that he may show forth her marvellous act, and celebrate her praise the more. For when thou hearest of a Canaanitish woman, thou shouldest call to mind those wicked nations, who overset from their foundations the very laws of nature. And being reminded of these, consider also the power of Christ's advent. For they who were cast out, that they might not pervert any Jews, these appeared so much better disposed than the Jews, as even to come out of their coasts, and approach Christ; while those were driving Him away, even on His coming unto them. Having then come unto Him, she saith nothing else, but "Have mercy on me," and by her cry brings about them many spectators. For indeed it was a pitiful spectacle to see a woman crying aloud in so great affliction, and that woman a mother, and entreating for a daughter, and for a daughter in such evil case: she not even venturing to bring into the Master's sight her that was possessed, but leaving her to lie at home, and herself making the entreaty. And she tells her affliction only, and adds nothing more; neither doth she drag the physician to her house, like that nobleman, saying, "Come and lay thy hand upon her," and, "Come down ere my child die." But having described both her calamity, and the intensity of the disease, she pleads the Lord's mercy, and cries aloud; and she saith not, "Have mercy on my daughter," but, "Have mercy on me." For she indeed is insensible of her disease, but it is I that suffer her innumerable woes; my disease is with consciousness, my madness with perception of itself.
A mother's love, a mother's hope.
Read it all at the link.
Finis
--
Released by Primus Pilus-Sabbatical
Legio Christi-Ecclesia Militans
"Let us therefore follow after the things which make for peace, and things wherewith one may edify another" [St. Paul's Epistle to the Romans 14:19]
* ORDO CENTURIONUM * IN HOC SIGNO VINCES * TIME DEUM ET OPERARE IUSTITIAM