O LORD, we beseech thee mercifully to hear us; and grant that we, to whom thou hast given an hearty desire to pray, may, by thy mighty aid be defended; through Jesus Christ our Lord. Amen.
Collect Source: Sacramentary of Gregory [ca 600AD]  
Jeremiah xxxi. 1, Psalm xvi, xvii, xviii, 1 St. Peter v. 5   &  St. Luke xv. 1.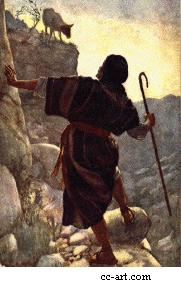 Rejoice with me; for I have found my sheep which was lost.
---
Augustine wrote,
"For the Son of Man is come to save that which was lost." 

Again, He is putting another reason stronger than the former, and connects with it a parable, by which He brings in the Father also as desiring these things. "For how think ye?" saith He; "If a man have an hundred sheep, and one of them be gone astray, doth he not leave the ninety and nine, and goeth into the mountains, and seeketh that which is gone astray? And if so be that he find it,he rejoiceth over it more than over the ninety and nine, which went not astray. Even so it is not will before your Father, that one of these little ones should perish." 

Seest thou by how many things He is urging to the care of our mean brethren. Say not then, "Such a one is a blacksmith, a shoemaker, he is a ploughman, he is a fool," and so despise him. For in order that thou shouldest not feel this, see by how many motives He persuades thee to practise moderation, and presses thee into a care for these. He set a little child, and saith, "Be ye as little children." And, "Whosoever receiveth such a little child receiveth me;" and, "Whosoever shall offend," shall suffer the utmost penalties. And He was not even satisfied with the comparison of the "millstone," but added also His "woe," and commanded us to cut off such, though they be in the place of hands and eyes to us. And by the angels again that are entrusted with these same mean brethren, He makes them objects of veneration, and from His own will and passion (for when He said, "The Son of Man is come to save that which was lost," He signifies even the cross, like as Paul saith, speaking of a brother, "For whom Christ died"); and from the Father, for that neither to Him doth it seem good that one should perish; and from common custom, because the shepherd leaves them that are safe, and seeks what is lost; and when he hath found what was gone astray, he is greatly delighted at the finding and the saving of this. 

 If then God thus rejoices over the little one that is found, how dost thou despise them that are the objects of God's earnest care, when one ought to give up even one's very life for one of these little ones? But is he weak and mean? Therefore for this very cause most of all, one ought to do everything in order to preserve him. For even He Himself left the ninety and nine sheep, and went after this, and the safety of so many availed not to throw into the shade the loss of one. But Luke saith, that He even brought it on his shoulders, and that "There was greater joy over one sinner that repenteth, than over ninety and nine just persons." And from His forsaking those that were saved for it, and from His taking more pleasure in this one, He showed His earnestness about it to be great. 


Finis


--
Released by Primus Pilus
Legio Christi-Ecclesia Militans
"Let us therefore follow after the things which make for peace, and things wherewith one may edify another" [St. Paul's Epistle to the Romans 14:19]

* ORDO CENTURIONUM * IN HOC SIGNO VINCES * TIME DEUM ET OPERARE IUSTITIAM