Longinus, Centurion,
[March 15 - 1st Century]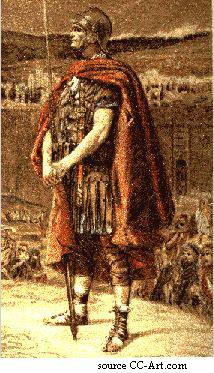 Truly this man was the Son of God
Almighty God, our sovereign Lord, who inspired the Centurion at Calvary to glorify Jesus; strengthen us in our faith that we might follow his example to glorify you as faithful members of the Church Militant, through Jesus Christ our Lord, who lives and reigns with you and the Holy Spirit, one God, for ever and ever. Amen.
By tradition, the soldier who pierced the side of Jesus on Calvary was a centurion. He is called "Longinus" in the Gospel of Nicodemus / Atcts of Pilate ( probably derived from the Greek 'longche', meaning "lance".)
He is one of the three Centurions of the New Testament we salute, and he confessed Jesus as the Son of God - a Righteous Man. Tradition says later he was a deacon of the church, preached the Gospel, and was martyred.
John 19:32 The soldiers therefore came, and brake the legs of the first, and of the other that was crucified with him: but when they came to Jesus, and saw that he was dead already, they brake not his legs: howbeit one of the soldiers with a spear pierced his side, and straightway there came out blood and water. And he that hath seen hath borne witness, and his witness is true: and he knoweth that he saith true, that ye also may believe. For these things came to pass, that the scripture might be fulfilled, A bone of him shall not be broken. And again another scripture saith, They shall look on him whom they pierced.
Mark 15:39 And when the centurion, who stood by over against him, saw that he so gave up the ghost, he said, Truly this man was the Son of God....And Pilate marvelled if he were already dead: and calling unto him the centurion, he asked him whether he had been any while dead. And when he learned it of the centurion, he granted the corpse to Joseph.
Luke 23:47 And when the centurion saw what was done, he glorified God, saying, Certainly this was a righteous man
The Centurion is sometimes known as Gaius Cassius Longinus. There was such a person, a Roman General, who plotted against Julius Caesar who was assassinated on the Ides of March - the Feast Day of the Centurion of Calvary
Medeival Golden Legend of Longinus
_________