The Third Sunday in Lent
WE beseech thee, Almighty God, look upon the hearty desires of thy humble servants, and stretch forth the right hand of thy Majesty, to be our defence against all our enemies; through Jesus Christ our Lord. Amen.
Source: Saramentary of Gregory, Bishop of Rome [600 AD] In the Gospel today Jesus heals a man possesed, stretching forth his had
Deut vi., Psalm 25, Ephesians v. 1. St. Luke xi. 14.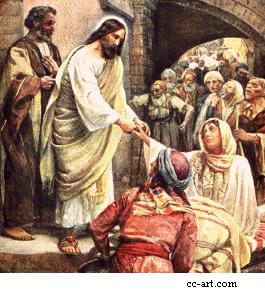 Blessed are they that hear the word of God, and keep it.
Announcements for the week beginning 19 March 06


Please hold all centurions in your prayers this week. You may like to use this Centurion's Daily Litany

Feasts, Memorials, and Fasts

Sundays are feast days our our Lord throughout the year
Wednesdays and Fridays were days of fasting and special devotion in the early church
. Major Feasts and Fasts in bold.
WE ARE NOW IN THE LENTEN SEASON IN THE WESTERN CHURCH. ALL DAYS BETWEEN ASH WEDNESDAY AND EASTER, EXCEPT SUNDAYS, ARE DAYS OF FASTING AND SPECIAL DEVOTION BY TRADITION.
Nicholas von der Flue, Soldier and Hermit -- March 22nd
There will be an institution and dedication of Cohort "Annunciation" in New Jersey upon the Feast of the Annunciation - 25 March.


BIDDINGS
Centurion gone to sea in the North Pacific
Thanksgiving for Corhos Dues Inservio - Idaho
Centurions in harms way
Peace in the Mideast