The Fifth Sunday after Trinity

GRANT, O Lord, we beseech thee, that the course of this world may be so peaceably ordered by thy governance, that thy Church may joyfully serve thee in all godly quietness; through Jesus Christ our Lord. Amen.
Sacramentary of Leo, Bishop of Rome [ca 450]. The collect asks for peace... Leo faced barbarian tribes at the gates of Rome in this period. Cranmer used "our Lord" instead of the Latin "our Redeemer"
Ecclesiastes ii. 1, Psalm 62, 1 St. Peter iii. 8 & St. Luke v. 1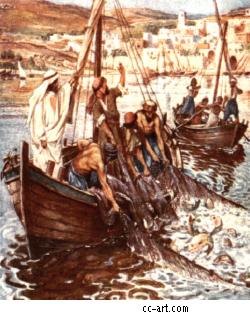 Fear not; from henceforth thou shalt catch men
Free Seminary Courses - Centurion Mike of Texas posted this site on another forum http://www.covenantseminary.edu/worldwide/default.asp where one may get free seminary courses from Covenant Seminary, the national Seminary of the Presbyterian Church of America. The PDF study files are small enough, but the MP3 Lecture files are rather large. You may use directly from the site. The text may be ordered from the Seminary. For those who wish to use offline, I would highly recommend a high-speed connection to download these files. I did so on the first ancient church history course and it took appproxmately 272 mebabites of memory. In this one class, there some 34 audio lectures and 38 pdf files that correspond to the lectures, syllabus, and annexes. The full seminary is 20 classes.