Saint James
[July 25th]
Chrysostom on Acts

GRANT, O merciful God, that, as thine holy Apostle Saint James, leaving his father and all that he had, without delay was obedient unto the calling of thy Son Jesus Christ, and followed him; so we, forsaking all worldly and carnal affections, may be evermore ready to follow thy holy commandments; through the same Jesus Christ our Lord. Amen.
Psalm 34 Acts xi. 27 St. Matthew xx. 20
Homily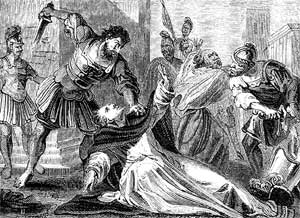 And he killed James the brother of John with the sword.
---