Saint Matthias
[February 24]
O ALMIGHTY God, who into the place of the traitor Judas didst choose thy faithful servant Matthias to be of the number of the twelve Apostles; Grant that thy Church, being alway preserved from false Apostles, may be ordered and guided by faithful and true pastors; through Jesus Christ our Lord. Amen.
1 Sam ii. 27, Ps 15, Acts i. 15 and Matthew xi. 25
Homilies

Other Readings:
Eve Ps 33, 1 Sam 16:1-13, 1 John 2:15ff
Morning Ps 15,24; 1 Sam 2:27-35; Matt 7:15-27
Evening Ps 145, 1 Sam 12:1-5, Acts 20:17-35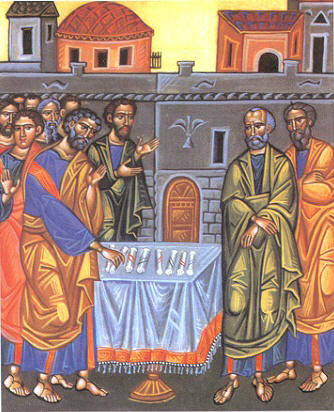 and the lot fell upon Matthias;
and he was numbered with the eleven apostles
Matthias just, today his dignity we own
In that the Apostles' lot gave him the vacant throne;
Last chosen of the Twelve, hear him, O Lord of love,
That throned in light and bliss, we too may reign above.

Note: Matthias by tradition "preached the Gospel for more than 30 years in Judea, Cappadocia, Egypt and Ethiopia. Remembered for preaching the need for mortification of the flesh with regard to all its sensual and irregular desires. Martyr. Died stoned to death at Colchis in 80 AD; some relics in the abatical church of Triers, others in Saint Mary Major in Rome"
---