The Sunday called Sexagesima
the second Sunday before Lent
Second Homily of Chrysostom on the Epistle
Sexagesima Home
O LORD God, who seest that we put not our trust in any thing that we do; Mercifully grant that by thy power we may be defended against all adversity; through Jesus Christ our Lord. Amen.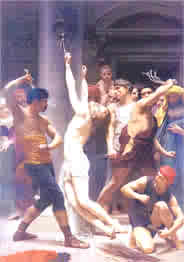 Of the Jews five times received I forty stripes save one
In Paphos, the old Roman captial city of Cyprus, on Apostolou Pavlou Avenue is St. Paul's Pillar where he received 40 lashes less one for his work for Christ
See a photo here of St. Paul's Pillar.
Chrysostom in today's homily writes:
Why, "save one?" There was an ancient law that he who had received more than the forty should be held disgraced amongst them. Lest then the vehemence and impetuosity of the executioner by inflicting more than the number should cause a man to be disgraced, they decreed that they should be inflicted, "save one," that even if the executioner should exceed, he might not overpass the forty, but remaining within the prescribed number might not bring degradation on him that was scourged. more here Homily