The Fifth Sunday after Trinity
Ambrose, Bishop of Milan, on Courtesy
GRANT, O Lord, we beseech thee, that the course of this world may be so peaceably ordered by thy governance, that thy Church may joyfully serve thee in all godly quietness; through Jesus Christ our Lord. Amen.
1 St. Peter iii. 8 & St. Luke v. 1
be courteous: not rendering evil for evil, or railing for railing: but contrariwise blessing; knowing that ye are thereunto called, that ye should inherit a blessing.
---
BULLETIN
calendar
commentary
Ambrose on the Epistle: I am excited about the selection for this Sunday's Homily. It is from Ambrose, and newly posted on the Order's site. It touches on the Epistle of Peter that is appointed for this Sunday in the propers. I most highly encourage it to all those in the Order, and especially for clergy for whom Ambrose wrote in the 5th Century. Ambrose's admonitions for courtesy are so appropriate for us as a guideline, that I've added them to our forum mail policy, along with Paul's admonition which stands at the bottom of every official post from the Legion.
Listen to the words of Ambrose here:
Our language should be mild and quiet, and full of kindness and courtesy and free from insult. Let there be no obstinate disputes in our familiar conversations, for they are wont only to bring up useless subjects, rather than to supply anything useful. Let there be discussion without wrath, urbanity without bitterness, warning without sharpness, advice without giving offence. And as in every action of our life we ought to take heed to this, in order that no overpowering impulse of our mind may ever shut out reason (let us always keep a place for counsel), so, too, ought we to observe that rule in our language, so that neither wrath nor hatred may be aroused, and that we may not show any signs of our greed or sloth.
Let today's collect be our cry to God for peace in the world, and let us follow the last Commandment our Lord gave his disciples before his death, as evidenced by our conduct and language with fellow Christians:
A new commandment I give unto you, That ye love one another; as I have loved you, that ye also love one another. By this shall all men know that ye are my disciples, if ye have love one to another. [Jn xiii. 34-35]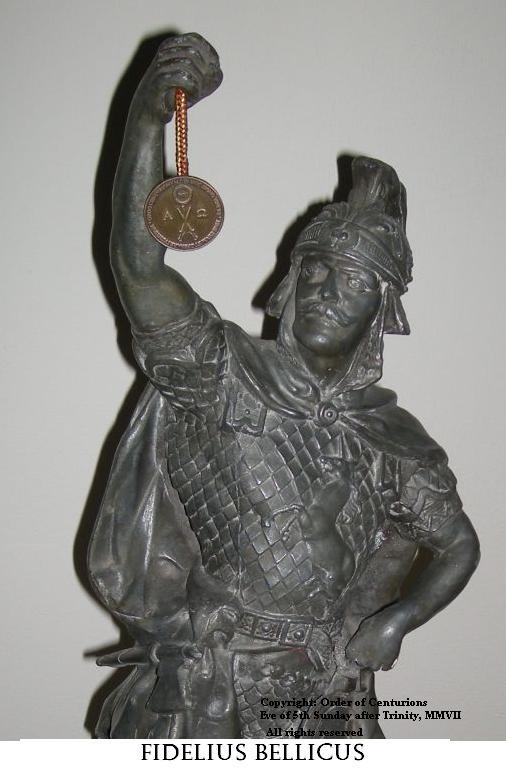 "Let us therefore follow after the things which make for peace, and things wherewith one may edify another" [St. Paul's Epistle to the Romans 14:19]
IN HOC SIGNO VINCES - TIME DEUM ET OPERARE IUSTITIAM
www.OrderofCenturions.org