Seventh Sunday after Trinity
Leo, Bishop, touching on the Gospel
Seventh Sunday after Trinity Home
LORD of all power and might, who art the author and giver of all good things; Graft in our hearts the love of thy Name, increase in us true religion, nourish us with all goodness, and of thy great mercy keep us in the same; through Jesus Christ our Lord. Amen.
I have compassion on the multitude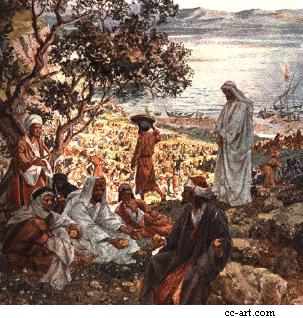 Romans vi. 19 & St. Mark viii. 1
Bulletin
Calendar
Commentary
This Sunday's homily comes from a writing of Leo the Great, Bishop of Rome [440-461]. Leo uses the story in the Gospel as he teaches on the two natures of Christ.
To set food before the hungry denotes human kindness and a philanthropic spirit: but with five loaves and two fishes to satisfy 5,000 men, besides women and children, who would dare deny that to be the work of Deity? a Deity which, by the co-operation of the functions of true flesh, showed not only itself in Manhood, but also Manhood in itself; for the old, original wounds in man's nature could not be healed, except by the Word of God taking to Himself flesh from the Virgin's womb, whereby in one and the same Person flesh and the Word co-existed.
In Leo's time, the Church was challenged by many heresies to the orthodox faith. It was at the council Chalcedon that the true orthodox understanding of Christ's nature was expounded and adopted by the catholic church. I commend this page for a review of some of the heresies the Church faced concerning Christ's nature, heresies which are again emerging. We cite the statement of faith declared at Chalceldon on our Belief page. Here it is again:
The main heresy today is the idea that Christ was not divine. As an extreme example of this, the Episcopal Church has a Moslem who was ordained to the priesthood, and who professes Christ as the Koran teaches - a prophet but not divine and not the only begotten Son of God.

Chalcedonian Creed

Following, then, the holy fathers, we unite in teaching all men to confess the one and only Son, our Lord Jesus Christ. This selfsame one is perfect both in deity and in humanness; this selfsame one is also actually God and actually man, with a rational soul and a body. He is consubstantial with the Father as far as his deity is concerned and consubstantial with us as far as his humanness is concerned; thus like us in all respects, sin only excepted. Before time began he was begotten of the Father, in respect of his deity, and now in these "last days," for us and behalf of our salvation, this selfsame one was born of Mary the virgin, who is God-bearer in respect of his humanness.

We also teach that we apprehend this one and only Christ-Son, Lord, only-begotten - in two natures; and we do this without confusing the two natures, without transmuting one nature into the other, without dividing them into two separate categories, without contrasting them according to area or function. The distinctiveness of each nature is not nullified by the union. Instead, the "properties" of each nature are conserved and both natures concur in one "person" and in one subsistence. They are not divided or cut into two persons, but are together the one and only and only-begotten Word of God, the Lord Jesus Christ. Thus have the prophets of old testified; thus the Lord Jesus Christ himself taught us; thus the Symbol of Fathers has handed down to us.

pax Christi

msc
--
"Let us therefore follow after the things which make for peace, and things wherewith one may edify another" [St. Paul's Epistle to the Romans 14:19]
IN HOC SIGNO VINCES - TIME DEUM ET OPERARE IUSTITIAM
www.OrderofCenturions.org
--
"Let us therefore follow after the things which make for peace, and things wherewith one may edify another" [St. Paul's Epistle to the Romans 14:19]
IN HOC SIGNO VINCES - TIME DEUM ET OPERARE IUSTITIAM
www.OrderofCenturions.org