Grace unto you, and peace, from God our Father and the Lord Jesus Christ
News of the Order and commentary appear after the Proper Collect, Epistle and Gospel
The Fourth Sunday in Advent
Augustine on Psalm XCVIII

O LORD, raise up, we pray thee, thy power, and come among us, and with great might succour us; that whereas, through our sins and wickedness, we are sore let and hindered, thy bountiful grace and mercy may speedily help and deliver us; through Jesus Christ our Lord, to whom, with thee and the Holy Ghost, be honour and glory, world without end. Amen.

ALMIGHTY God, give us grace that we may cast away the works of darkness, and put upon us the armour of light, now in the time of this mortal life, in which thy Son Jesus Christ came to visit us in great humility; that in the last day, when he shall come again in his glorious majesty to judge both the quick and the dead, we may rise to the life immortal, through him who liveth and reigneth with thee and the Holy Ghost, now and ever. Amen.
Source: Bishop Gelasius of Rome Sacramentary [464 AD]. The 1662 edition added the "running the race that is before us" "Succor" is to run to help, while "sore let" is to thwart, hinder
Philippians iv. 4, Psalms 98, 99 | 101, 103 & St. John i. 19.
Homily of Augustine on Psalm XCVIII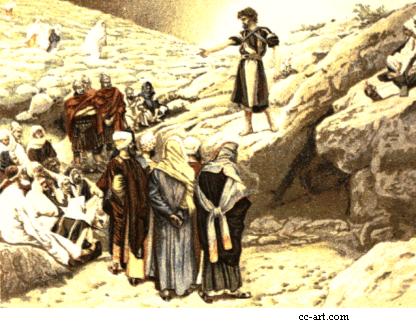 I am the voice of one crying in the wilderness, Make straight the way of the Lord,
---
BULLETIN
quotation
…by that advent of the Saviour which He accomplished in His state of humiliation, when He assumed the form of a servant, that more celebrated and renowned second advent in the glory of His Father may not be pointed out … when in the kingdom of heaven all the saints shall live according to the laws of the everlasting Gospel; and as in His coming now He fulfilled that law which has a shadow of good things to come, so also by that (future) glorious advent will be fulfilled and brought to perfection the shadows of the present advent. For thus spake the prophet regarding it: "The breath of our countenance, Christ the Lord, to whom we said, that under Thy shadow we shall live among the nations; " at the time, viz., when He will more worthily transfer all the saints from a temporal to an everlasting Gospel, according to the designation, employed by John in the Apocalypse, of "an everlasting Gospel."
[Origen Adamantinus -- Origen de Principiis, Book IV, 25]
calendar
Eve of the Nativity - December 24th
Nativity of Our Lord Jesus Christ - December 25th
Stephen, Deacon and Martyr -- December 26th
John, Apostle and Evangelist -- December 27th
The Holy Innocents -- December 28th
see note on prayer vigil for this day
commentary
Augustine comments on Psalm 98 in the homily for this Sunday. He speaks of gift of healing to those in Christ, and that it first occurs in the inward man, and then in outward conduct.
For many are healed for themselves, not for Him. Behold how many long for that bodily health, and receive it from Him: they are healed by Him, but not for Him. How are they healed by Him, and not for Him? When they have received health, they become wanton: they who when sick were chaste, when cured become adulterers: they who when in illness injured no man, on the recovery of their strength attack and crush the innocent: they are healed, but not unto Him. Who is he who is healed unto Him? He who is healed inwardly. Who is he that is healed inwardly? He who trusteth in Him, that when he shall have been healed inwardly, reformed into a new man, afterwards this mortal flesh too, which doth languish for a time, may in the end itself even recover its most perfect health. Let us therefore be healed for Him. But that we may be healed for Him, let us believe in His right hand [i.e., JESUS, the right hand of God].
Augustine continues by speaking of the discipline of the Lord, like a hammer, and exhorting his listeners to reform themselves before the Second Coming.
We hope to publish homilies collects and lessons for the Eve of the Nativity, the Nativity and Holy Days next week.
Α ☧ Ω
ihsv
--
"Let us therefore follow after the things which make for peace, and things wherewith one may edify another" [St. Paul's Epistle to the Romans 14:19]
IN HOC SIGNO VINCES - TIME DEUM ET OPERARE IUSTITIAM
www.OrderofCenturions.org
--
"Let us therefore follow after the things which make for peace, and things wherewith one may edify another" [St. Paul's Epistle to the Romans 14:19]
IN HOC SIGNO VINCES - TIME DEUM ET OPERARE IUSTITIAM
www.OrderofCenturions.org