Alleluia. Unto us a child is born, * O come, let us adore him. Alleluia
Commentary appears after the Proper Collect, Epistle and Gospel
The Nativity of our Lord
or the Birthday of Christ, commonly called Christmas Day
[December 25]
Augustine on John i. and Psalm CXXI

ALMIGHTY God, who hast given us thy only-begotten Son to take our nature upon him, and as at this time to be born of a pure virgin; Grant that we being regenerate, and made thy children by adoption and grace, may daily be renewed by thy Holy Spirit; through the same our Lord Jesus Christ, who liveth and reigneth with thee and the same Spirit ever, one God, world without end. Amen.
Source: Archbishop Cranmer [1549AD]. Cranmer highlights the gracious gift by the Father of Jesus to the world and our baptism and adoption that brings the comfort of the Holy Ghost.
Hebrews i. 1, Psalm CXXI, & St. John i. 1
Homily of Augustine on John i. 1ff, and Psalm CXXI
Jesus is the true Light, which lighteth every man that cometh into the world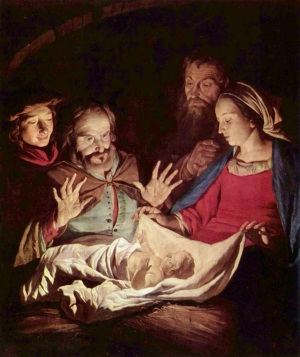 Commentary
The True Light
Greetings All, and Merry Christmas from Legio Christi.
On Christmas we remember the birth of our Savior. We adore our Lord Jesus, God incarnate, who brought the True Light into the world.
The homily for this day is from Augustine and appears on the Order's site for the first time. It is on John i. 1ff, and Psalm CXXI which was sung on the day that Augustine preached the homily. Augustine exalts the True Light, and exhorts his listeners to beware of the heretics of his day. He writes What then, brethren? why have I said these things? Shut the ears of your hearts against the wiles of the enemy.
Good advice which I commend to you this day. I have recently read comments, some from amongst members of this Order, concerning those who pretend to have some "light" to enlighten men that is different, or more, than what God has given to us plainly the canonical Scripture. The claim to special or hidden knowledge is the heresy of Gnosticism and is ancient from Greek culture. It was refuted in the 2nd and 3rd Century, but emerges in every age, and even amongst some who have associated with the Order, I fear. The very Gospel which we read today, of John i, was used to justify the early Gnostic claims of those who claimed to be Christian, so that they could transcend evil of this world through the acquisition of some esoteric spiritual knowledge - heresy!

Of late, others have claimed that different paths, different religions, are valid unto Salvation, including leaders of some major dominations in my country. Peter, full of the Holy Ghost, refuted this heresy saying, " Neither is there salvation in any other: for there is none other name under heaven given among men, whereby we must be saved.
All things necessary for Salvation are given to us in the Scripture* Saving knowledge and belief is perhaps best summarized in John iii. 16: "God so loved the world, that he gave his only begotten Son, that whosoever believeth in him should not perish, but have everlasting life." There is no other born of woman who merits our worship or to whom we should come in adoration. There is no other doctrine, than that which is plainly given to us in the Scriptures, which will save us. There is but one way to the Father, and that is through the Son. O come, let us adore him.
Salve.
Alleluia. Unto us a child is born, * O come, let us adore him. Alleluia
--
* Holy Scripture containeth all things necessary to salvation: so that whatsoever is not read therein, nor may be proved thereby, is not to be required of any man, that it should be believed as an article of the Faith, or be thought requisite or necessary to salvation:
Of the Sufficiency of the Holy Scriptures for Salvation, Article VI, Article of Faith, Church of England
"Let us therefore follow after the things which make for peace, and things wherewith one may edify another" [St. Paul's Epistle to the Romans 14:19]
IN HOC SIGNO VINCES - TIME DEUM ET OPERARE IUSTITIAM
www.OrderofCenturions.org
--
"Let us therefore follow after the things which make for peace, and things wherewith one may edify another" [St. Paul's Epistle to the Romans 14:19]
IN HOC SIGNO VINCES - TIME DEUM ET OPERARE IUSTITIAM
www.OrderofCenturions.org