Holy, holy, holy, Lord God Almighty, which was, and is, and is to come.
News of the Order and commentary appear after the Proper Collect, Epistle and Gospel
Trinity Sunday
Augustine on Psalm XXIX
ALMIGHTY and everlasting God, who hast given unto us thy servants grace, by the confession of a true faith, to acknowledge the glory of the eternal Trinity, and in the power of the Divine Majesty to worship the Unity; We beseech thee that thou wouldest keep us stedfast in this faith, and evermore defend us from all adversities, who livest and reignest, one God, world without end. Amen.
Genesis XVIII., Psalms 29, 33 | 93, 97, 150 , Revelation iv. 1 & St. John iii. 1
Homily of Augustine on Psalm XXIX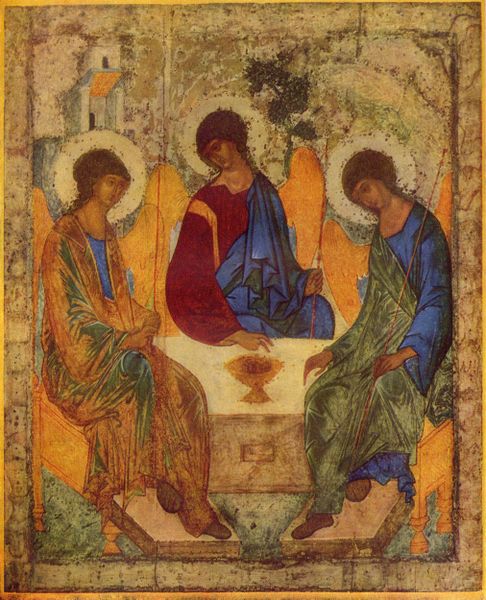 Angels at Mamre (Holy Trinity) Rublev
BULLETIN
calendar
Constantine, Emperor - May 22nd
quotation
He who goes about to speak of the mystery of the Trinity, and does it by words, and names of man's invention, talking of essence and existence hypostases and personalities, priority in co-equality, and unity in pluralities, may amuse himself and build a tabernacle in his head, and talk something--he knows not what; but the renewed man, that feels the power of the Father, to whom the Son is become wisdom, sanctification, and redemption, in whose heart the love of the Spirit of God is shed abroad--this man, tho he understand nothing of what is unintelligible, yet he alone truly understands the Christian doctrine of the Trinity.
news
Here is a book concerning the restoration and meaning behind the beautiful Icon above: The Rublev Trinity. I invite you to contemplate the image, postures, setting, etc. I encourage all to read the review at the link above, and here also is an excellent short paper on the icon.
commentary
We enter the long season of Trinity which will last until Advent. It is a time of hearing the many lessons of the Gospel- the teachings of Christ. It is a day when we recognize the orthodox-catholic dogma of the Trinity.
The psalm of praise,(29) that Augustine examines in the homily is very appropriate for this Holy Day. He picks up the theme of the Church Militant in his exegesis.
He writes:
A Psalm of the Mediator Himself, strong of hand, of the perfection of the Church in this world, where she wars in time against the devil….The Lord will give strength to His people" . For the Lord will give strength to His people fighting against the storms and whirlwinds of this world, for peace in this world He hath not promised them. "The Lord will bless His people in peace." And the same Lord will bless His people, affording them peace in Himself; for, saith He, "My peace I give unto you, My peace I leave with you."
May God's Strength and Peace be with each faithful centurion this day; in the name of the Father, and the Son, and the Holy Ghost. Amen
Semper Vigilante – Semper Militant – Semper Fidelis
--
"Let us therefore follow after the things which make for peace, and things wherewith one may edify another" [St. Paul's Epistle to the Romans 14:19]

IN HOC SIGNO VINCES - TIME DEUM ET OPERARE IUSTITIAM
www.OrderofCenturions.org
--
"Let us therefore follow after the things which make for peace, and things wherewith one may edify another" [St. Paul's Epistle to the Romans 14:19]
IN HOC SIGNO VINCES - TIME DEUM ET OPERARE IUSTITIAM
www.OrderofCenturions.org