Ye shall receive power, after that the Holy Ghost is come upon you: and ye shall be witnesses unto me both in Jerusalem,
and in all Judaea, and in Samaria, and unto the uttermost part of the earth.
Because ye are sons, God hath sent forth the Spirit of his Son into your hearts, crying, Abba, Father.
.
News of the Order and commentary appear after the Proper Collect, Epistle and Gospel
Pentecost
commonly called Whitsunday
Homily of Augustin on Psalm CXIV
Whitsun Home
O GOD, who as at this time didst teach the hearts of thy faithful people, by sending to them the light of thy Holy Spirit; Grant us by the same Spirit to have a right judgment in all things, and evermore to rejoice in his holy comfort; through the merits of Christ Jesus our Saviour, who liveth and reigneth with thee, in the unity of the same Spirit, one God, world without end. Amen.
This Collect is to be said daily throughout Whitsun Week.
Joel ii. 28, Acts ii. 1. St. John xiv. 15.
Psalms 48, 68 104, 145
Homily of Augustine on Psalm CIV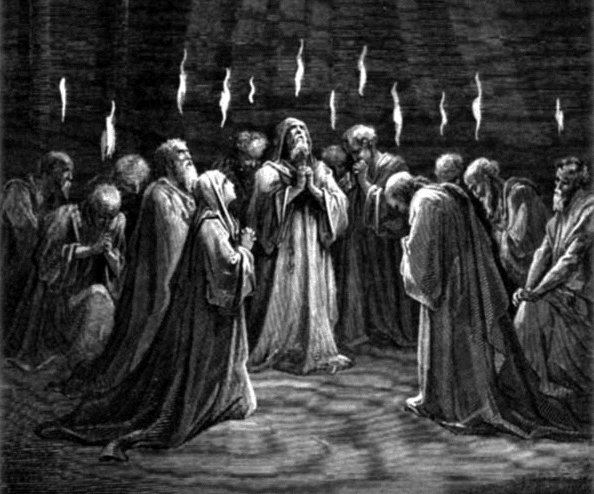 Bless the Lord.. who maketh his angels spirits; his ministers a flaming fire
---
BULLETIN
calendar
Ember Days Four Seasons
Wednesday, Friday, Saturday
Gerald of Villamagna, Crusader, Hermit - May 13th
quotation
Breathe in me, O Holy Spirit,
that my thoughts may all be holy.
Act in me, O Holy Spirit,
that my work, too, may be holy.
Draw my heart, O Holy Spirit,
that I love but what is holy.
Strengthen me, O Holy Spirit,
to defend all that is holy.
Guard me, then, O Holy Spirit,
that I always may be holy.
[Augustine]
bidding prayer
This week we observe the Ember Days. I bid your prayers that God would call out from our midst men who would commit to the ordained ministry, for all centurions who are studying in the seminaries and colleges for service to the Kingdom of God, and for all those in the Order, lay and ordained, who serve the Church in teaching, writing, preaching, praying, and living out the life of a Christian soldier.
ALMIGHTY and most merciful God, grant, we beseech thee, that by the indwelling of thy Holy Spirit, we may be enlightened and strengthened for thy service; through Jesus Christ our Lord, who liveth and reigneth with thee in the unity of the same Spirit ever, one God, world without end. Amen.
commentary
We enter the short season of Pentecost by the traditional calendar. One week only, followed by Trinity Sunday. There are two holy days following the Feast of Pentecost, and then the Ember Days and concluding on the Eve of Trinity. Pentecost is also called Whitsunday (White Sunday for baptismal gowns); this was a day, along with Easter when many were baptized and other may have worn their baptismal gowns. We remember from acts that the Church baptized over 3,000 in Jerusalem 10 days after the Ascension of our Lord.
Augustine preaches at our link on Psalm CIV. He writes of the first verses
"Bless the Lord, O my soul." Let the soul of us all, made one in Christ, say this. "O Lord my God, Thou art magnified exceedingly!" (ver. 1). Where art Thou magnified? "Confession and beauty Thou hast put on." Confess ye, that ye may be beautified, that He may put you on. "Clothed with light as a garment" (ver. 2). Clothed with His Church, because she is made "light" in Him, who before was darkness in herself, as the apostle saith: "Ye were sometime darkness, but now light in the Lord." "Stretching out the heaven like a skin:" either as easily as thou dost a skin, if it be "as easily," so that thou mayest take it after the letter; or let us understand the authority of the Scriptures, spread out over the whole world, under the name of a skin; because mortality is signified in a skin, but all the authority of the Divine Scriptures was dispensed unto us through mortal men, whose fame is still spreading abroad now they are dead.
Augustine's remark at the end of this paragraph, and the prophetic verse cited under the artwork from verse four of this psalm, remind us of the flames of fire that lighted upon the Apostles in the Upper Room. That flame represented the coming of the Spirit of God, the Comforter, who emboldened them to carry the Gospel into all the World, as their Lord commanded them. So now, we who carry the Gospel with us day by day in acts of charity with our neighbors and in our testimony, follow in the footsteps of the Apostles and Fathers of the Church to spread that sacred flame abroad.