Augustine on Luke x. 16
Being that portion of the Gospel that follows the regularly appiointed verses for the Feast of St. Luke [Luke x 1]
ALMIGHTY God, who didst inspire thy servant Saint Luke the Physician, to set forth in the Gospel the love and healing power of thy Son; Manifest in thy Church the like power and love, to the healing of our bodies and our souls; through the same thy Son Jesus Christ our Lord. Amen.
O GOD, forasmuch as without thee we are not able to please thee; Mercifully grant that thy Holy Spirit may in all things direct and rule our hearts; through Jesus Christ our Lord. Amen.
Sirach xxxviii,, Psalm 103  , 2 Timothy iv. 5   &   St. Luke x. 8
Homily of Augustine
He that heareth you heareth me; and he that despiseth you despiseth me;
 and he that despiseth me despiseth him that sent me.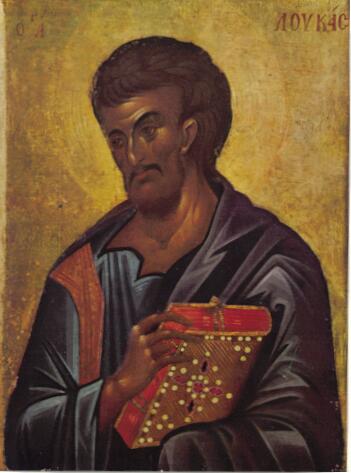 Comment
This day the Church remembers Luke the Evangelist - a Physician by tradition. The Early Church had a prologue to the Gospel that said, 
Luke, a native of Antioch, by profession a physician.
He had become a disciple of the apostle Paul and later followed Paul until his [Paul's] martyrdom. Having served the Lord continuously, unmarried and without children, filled with the Holy Spirit he died at the age of 84 years


For the OT lesson today, I have selected verses from the 38th chapter of Sirach.  We have many members who are in the field of medicine and healthcare, and on this day we recognize them for their service.  I encourage you to read this most appropriate scriptture, and to praise God who is with our centurions as they practice their art and science to his glory.
Our homily today is from Augustine. It addsresses the verses that follow the regular Gospel of Luke x, 1ff on the sending forth of the 70. The lesson of the 70 was likely selected in the years gone by because another tradition of the Early Church held that Luke was one of the 70. In the portion that follows the regular reading, Jesus advises his disciples of the fate of those who reject them and their teaching.  You won't often hear that message repeated in the post-modern "churches" as they would be afraid of offending their members. I am not ashamed of the Gospel, and I do not for an instant believe that the Gospels present anything but the true Word of God. I especially am thankful and praise God for the witness of Luke and his history of the ministry of our Lord and the Acts of the Apostles.
What our Lord Jesus Crist at that time spake to His disciples was put in writing, and prepared for us to hear. And so we have heard His words. For what profit would it be to us if He were seen, and were not heard? And now it is no hurt, that He is not seen, and yet is heard. He saith then, "He that despiseth you, despiseth Me."  If to the Apostles only He said, "He that despiseth you, despiseth Me;" do ye despise us. But if His word reach to us, and He hath called us, and set us in their place, see that ye despise not us, lest the wrong ye shall do unto us reach to Him. For if ye fear not us, fear Him who said, "He that despiseth you, despiseth Me." But why do we, who are unwilling to be despised by you, speak to you, except that we may have joy of your good conversation? Let your good works be the solace of our perils. Live well, that ye may not die ill. 

We know the truth of Augstine's words. Those who have been called and speak in our Lord's name are despised by those who are offended in the Gospel. His true ministers suffer for his sake, and yet they will receive the good reward promised by our Lord. Knowing this, true servants of God continue to proclaim the Gospel as best they can and as they have recievd and believe it. However, those who pretend to be God's ministers, dress in their pomp, and yet pander the idolators, pagans, and reprobate, while withholding the teachings of our Lord as given below, will win the admiration and praise of these lost souls, and they also shall have their desired reward in that day.  They will despise you for your orthodox faith. What shall become of them? What saith scripture:
...be ye sure of this, that the kingdom of God is come nigh unto you. But I say unto you, that it shall be more tolerable in that day for Sodom, than for that city. Woe unto thee, Chorazin! woe unto thee, Bethsaida! for if the mighty works had been done in Tyre and Sidon, which have been done in you, they had a great while ago repented, sitting in sackcloth and ashes. But it shall be more tolerable for Tyre and Sidon at the judgment, than for you. And thou, Capernaum, which art exalted to heaven, shalt be thrust down to hell. He that heareth you heareth me; and he that despiseth you despiseth me; and he that despiseth me despiseth him that sent me.
Released by Primus Pilus
Legio Christi-Ecclesia Militans
"Let us therefore follow after the things which make for peace, and things wherewith one may edify another" [St. Paul's Epistle to the Romans 14:19]

* ORDO CENTURIONUM * IN HOC SIGNO VINCES * TIME DEUM ET OPERARE IUSTITIAM