Augustine homily on Matt. xxii 
Home, 20th Sunday after Trinity
O ALMIGHTY and most merciful God, of thy bountiful goodness keep us, we beseech thee, from all things that may hurt us; that we, being ready both in body and soul, may cheerfully accomplish those things which thou commandest; through Jesus Christ our Lord. Amen.
Source: Sacrementary of Bishop Gelasius of Rome [494]. Much minor reworking from the Latin. [Barbee and Zalh]
Ephesians v. 15 &  St. Matthew xxii. 1 
Augustine on Matt. xx etc.
how camest thou in hither not having a wedding-garment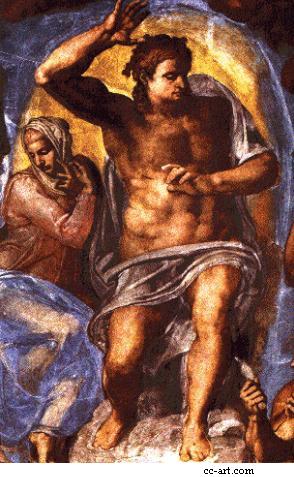 Comment
Today's Gospel is addressed in the homily of Augustine. I enjoyed the entire homily and invite you to read it at the link. I would like to examine closely this section 

 What is that "wedding garment" then? This is the wedding garment: "Now the end of the commandment," says the Apostle, "is charity out of a pure heart, and of a good conscience, and of faith unfeigned."  This is "the wedding garment." Not charity of any kind whatever; for very often they who are partakers together of an evil conscience seem to love one another. They who commit robberies together, who love the hurtful arts of sorceries, and the stage together, who join together in the shout of the chariot race, or the wild beast fight; these very often love one another; but in these there is no "charity out of a pure heart, and of a good conscience, and of faith unfeigned. The wedding garment" is such charity as this. "Though I speak with the tongues of men and of Angels, and have not charity, I am become as sounding brass, and a tinkling cymbal."  ... This then is "the wedding garment." Question yourselves; if ye have it, ye may be without fear in the Feast of the Lord. In one and the same man there exist two things, charity and desire. Let charity be born in thee, if it be yet unborn, and if it be born, be it nourished, fostered, increased. But as to that desire, though in this life it cannot be utterly extinguished; "for if we say that we have no sin we deceive ourselves, and the truth is not in us;"  but in so far as desire is in us, so far we are not without sin: let charity increase, desire decrease; that the one, that is, charity, may one day be perfected, and desire be consumed. Put on "the wedding garment:" you I address, who as yet have it not. Ye are already within, already do ye approach to the Feast, and still have ye not yet the garment to do honour to the Bridegroom; "Ye are yet seeking your own things, not the things which are Jesus Christ's." [3013] For "the wedding garment" is taken in honour of the union, the union, that is, of the Bridegroom to the Bride. Ye know the Bridegroom; it is Christ. Ye know the Bride; it is the Church. Pay honour to the Bride, pay honour to the Bridegroom. If ye pay due honour to them both, ye will be their children. Therefore in this make progress. Love the Lord, and so learn to love yourselves; that when by loving the Lord ye shall have loved yourselves, ye may securely love your neighbour as yourselves. For when I find a man that does not love himself, how shall I commit his neighbour whom he should love as himself to him? And who is there, you will say, who does not love himself? Who is there? See, "He that loveth iniquity hateth his own soul." Does he love himself, who loves his body, and hates his soul to his own hurt, to the hurt of both his body and soul? And who loves his own soul? He that loveth God with all his heart and with all his mind. To such an one I would at once entrust his neighbour. "Love your neighbour as yourselves." 
Twenty-one years ago in an Ethics class as Syracuse, I wrote a paper that keyed on the idea of the Summary of the Law as a guide to ethical behavior and submitted it to my professed "secular humanist" professor. My theme was close to that of Augustine in the above paragraph that I have emphasized:

"Love the Lord, and love your neighbor  (as well) as yourself.  

I had all these years thought my twist on the Summary and theme was original, but in reading Augustine this week, I realize that this fits within the adage that

"there is nothing new under the sun".

 
 I don't personally agree with Augustinie on the nature of the wedding garment, and think it to be a "saving faith by election", but I firmly support his thesis that we are sinners and saints who are called to grow in the spiritual virtues, the chief of which is charity toward our neighbors. As we recognize within ourselves that we are living in charity, and resisting malice, with every "neighbor", we may discern God's work within us, changing us into the image of Christ, to the glory of God.  For those who recognize such in their lives comes the blessed assurance of salvation confirmed, but to those whose malevolent spirit finds no love of self or neighbor, no rest, and where sin rules, then the terror of damnation leads to separation, wretchedness, desperation, and despair.  Chapter 13 of 1st Corinthians calls us from the beginnings of our walk in faith to the fruition and proof of that faith in charity manifested.
This coming week we will induct new members into the Labarum Guard on the eve of the Feast of Saxa Ruba, 27 October. All guards are called upon to pray this prayer that recognizes the source of those ancient and spritual virtues:  
I bid your prayers for them and all of us this day, Let us pray:
Almighty God, Captain of the Host, inspire us, we beseech thee, to grow in the virtues of justice, wisdom, courage, moderation, faith, hope, and

charity

; to protect and defend thy Church Militant against every assault of the enemy; and to render unto thee our Christian service; through Jesus Christ our Lord, who liveth and reigneth with thee and the Holy Ghost, one God, for ever and ever. Amen

"If a man loves righteousness, her labours are virtues; for she teacheth temperance and prudence, justice and fortitude, which are such things as man can have nothing more profitable in their life." (Wisdom of Solomon 8:7) "And now abideth faith, hope, charity, these three; but the greatest of these is charity" (1 Corenthians 13:13) 
Finis

--
Released by Primus Pilus
Legio Christi-Ecclesia Militans
"Let us therefore follow after the things which make for peace, and things wherewith one may edify another" [St. Paul's Epistle to the Romans 14:19]

* ORDO CENTURIONUM * IN HOC SIGNO VINCES * TIME DEUM ET OPERARE IUSTITIAM