ALMIGHTY God, who hast given thine only Son to be unto us both a sacrifice for sin, and also an ensample of godly life; Give us grace that we may always most thankfully receive that his inestimable benefit, and also daily endeavour ourselves to follow the blessed steps of his most holy life; through the same thy Son Jesus Christ our Lord. Amen.


Isaih xl. 1, Psalm 21, 23 | 116, 117; 1 St. Peter ii. 19. St. John x. 11. 

Homilies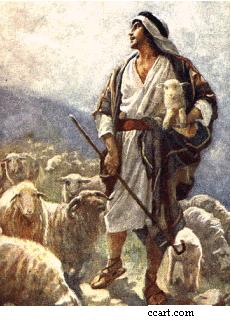 "Verily, verily, I say unto you, he that entereth not by the door into the sheepfold, 
but climbeth up some other way, the same is a thief and a robber."
Chrysostom wrote:
Observe the marks of a robber; first, that he doth not enter openly; secondly, not according to the Scriptures, for this is the, "not by the door." Here also He referreth to those who had been before, and to those who should be after Him, Antichrist and the false Christs, Judas and Theudas, and whatever others there have been of the same kind. And with good cause He calleth the Scriptures "a door," for they bring us to God, and open to us the knowledge of God, they make the sheep, they guard them, and suffer not the wolves to come in after them. For Scripture, like some sure door, barreth the passage against the heretics, placing us in a state of safety as to all that we desire, and not allowing us to wander; and if we undo it not, we shall not easily be conquered by our foes. By it we can know all, both those who are, and those who are not, shepherds. But what is "into the fold"? It refers to the sheep, and the care of them. For he that useth not the Scriptures, but "climbeth up some other way," that is, who cutteth out for himself another and an unusual way, "the same is a thief." Seest thou from this too that Christ agreeth with the Father, in that He bringeth forward the Scriptures? On which account also He said to the Jews, "Search the Scriptures" ( c. v. 39 ); and brought forward Moses, and called him and all the Prophets witnesses, for "all," saith He, "who hear the Prophets shall come to Me"; and, "Had ye believed Moses, ye would have believed Me." But here He hath put the same thing metaphorically. And by saying, "climbeth up some other way," He alluded to the Scribes, because they taught for commandments the doctrines of men, and transgressed the Law ( Matt. xv. 9 ); with which He reproached them, and said, "None of you doeth the Law." ( c. vii. 19 .) Well did He say, "climbeth up," not "entereth in," since to climb is the act of a thief intending to overleap a wall, and who doeth all with danger. Hast thou seen how He hath sketched the robber? now observe the character of the shepherd. What then is it?
FINIS
--
Released by Primus Pilus
Legio Christi-Ecclesia Militans
"Let us therefore follow after the things which make for peace, and things wherewith one may edify another" [St. Paul's Epistle to the Romans 14:19]
* ORDO CENTURIONUM * IN HOC SIGNO VINCES * TIME DEUM ET OPERARE IUSTITIAM