ALMIGHTY God, who showest to them that are in error the light of thy truth, to the intent that they may return into the way of righteousness; Grant unto all those who are admitted into the fellowship of Christ's Religion, that they may avoid those things that are contrary to their profession, and follow all such things as are agreeable to the same; through our Lord Jesus Christ. Amen.
Source of Collect: Sacramentary of Leo, Bishop of Rome [440-461AD]. The Vigil of Easter was the traditional time for Baptism, and this collect speaks to the newly baptized "all those who are admitted into the fellowship". One had to be baptized to be present during the Eucharist. Christiana professione censentor
1 Samuel ii. 1b, Psalm 120, 121, 122 | 123, 124, 125; 1 St. Peter ii. 11. St. John xvi. 16.
Homilies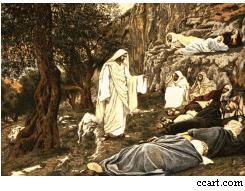 "These things have I spoken unto you in proverbs, 
but the time cometh when I shall no more speak unto you in proverbs."
---
John Chrysostom on 
John xvi. 16ff wrote
"There shall be a time when ye shall know all things clearly." He speaketh of the time of the Resurrection. "Then," "I shall tell you plainly of the Father." (For He was with them, and talked with them forty days, being assembled with them, and speaking of the things concerning the kingdom of God- Acts i. 3, 4 ,)-"because now being in fear, ye give no heed to My words; but then when ye see Me risen again, and converse with Me, ye will be able to learn all things plainly, for the Father Himself will love you, when your faith in Me hath been made firm."
--
Released by Primus Pilus
Legio Christi-Ecclesia Militans
"Let us therefore follow after the things which make for peace, and things wherewith one may edify another" [St. Paul's Epistle to the Romans 14:19]
* ORDO CENTURIONUM * IN HOC SIGNO VINCES * TIME DEUM ET OPERARE IUSTITIAM