O GOD, who as at this time didst teach the hearts of thy faithful people, by sending to them the light of thy Holy Spirit; Grant us by the same Spirit to have a right judgment in all things, and evermore to rejoice in his holy comfort; through the merits of Christ Jesus our Saviour, who liveth and reigneth with thee, in the unity of the same Spirit, one God, world without end. Amen.
Joel ii. 28, Psalm 68, Acts ii. 1. St. John xiv. 15.
Homily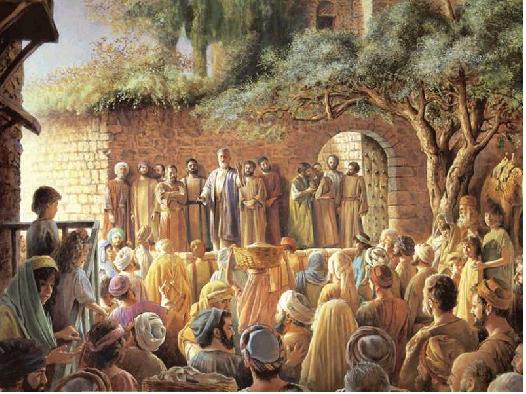 We do hear them speak in our tongues the wonderful works of God
---
Chrysostom wrote,
So then the testimony comes from all quarters: from citizens, from foreigners, from proselytes. "We do hear them speak in our tongues the wonderful works of God." For it was not only that they spoke (in their tongues), but the things they spoke were wonderful. Well then might they be in doubt: for never had the like occurred. Observe the ingenuousness of these men. They were amazed and were in doubt, saying, "What meaneth this?" But "others mocking said, 'These men are full of new wine'" (John viii. 48), and therefore mocked. O the effrontery! And what wonder is it? Since even of the Lord Himself, when casting out devils, they said that He had a devil! For so it is; wherever impudent assurance exists, it has but one object in view, to speak at all hazards, it cares not what; not that the man should say something real and relevant to the matter of discourse, but that he should speak no matter what. ["They are full of new wine."] Quite a thing of course (is not it?), that men in the midst of such dangers, and dreading the worst, and in such despondency, have the courage to utter such things! And observe: since this was unlikely; because they would not have been drinking much [at that early hour], they ascribe the whole matter to the quality (of the wine), and say, "They are full" of it.
Read it all at the link
---
--
Released by Primus Pilus
Legio Christi-Ecclesia Militans
"Let us therefore follow after the things which make for peace, and things wherewith one may edify another" [St. Paul's Epistle to the Romans 14:19]
* ORDO CENTURIONUM * IN HOC SIGNO VINCES * TIME DEUM ET OPERARE IUSTITIAM