ALMIGHTY and everlasting God, who hast given unto us thy servants grace, by the confession of a true faith, to acknowledge the glory of the eternal Trinity, and in the power of the Divine Majesty to worship the Unity; We beseech thee that thou wouldest keep us stedfast in this faith, and evermore defend us from all adversities, who livest and reignest, one God, world without end. Amen.
Numbers xxi. 4., Psalms 29, 33 | 93, 97, 150 ,   Revelation iv. 1   &   St. John iii. 1
Admonition and Exhortation for Communion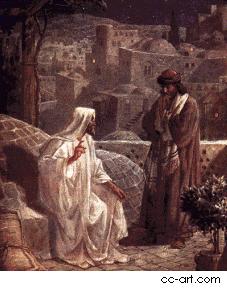 "Verily I say unto thee, Except a man be born of water and of the Spirit, 
he cannot enter into the Kingdom of God."
---
Chrysostom wrote:

What then is the use of the water? This too I will tell you hereafter, when I reveal to you the hidden mystery. There are also other points of mystical teaching connected with the matter, but for the present I will mention to you one out of many. What is this one? In Baptism are fulfilled the pledges of our covenant with God; burial and death, resurrection and life; and these take place all at once. For when we immerse our heads in the water, the old man is buried as in a tomb below, and wholly sunk forever; then as we raise them again, the new man rises in its stead. As it is easy for us to dip and to lift our heads again, so it is easy for God to bury the old man, and to show forth the new. And this is done thrice, that you may learn that the power of the Father, the Son, and the Holy Ghost fulfilleth all this. To show that what we say is no conjecture, hear Paul saying, "We are buried with Him by Baptism into death": and again, "Our old man is crucified with Him": and again, "We have been planted together in the likeness of His death." ( Rom. vi. 4, 5, 6 .) And not only is Baptism called a "cross," but the "cross" is called "Baptism." "With the Baptism," saith Christ, "that I am baptized withal shall ye be baptized" ( Mark x. 39 ): 
Read it all at the link
(note: in the early church, and the Church of Chrysostom's era, baptism was administered normally on Easter, very early in the morning after a vigil. Candidates were completely naked and without any jewelry.  The candidate was questioned with the creed, as we have it in the Order, was anointed by a presbyter, was immersed three times, once in the name of the Father, once for the Son, and once for the Holy Ghost, and was then robed in a white tunic and presented to the bishop in the Church who confirmed him with the laying on of hands and anointing before first communion. See the historic service here: http://www.orderofcenturions.org/baptism.html )
Finis 
---
--
Released by Primus Pilus
Legio Christi-Ecclesia Militans
"Let us therefore follow after the things which make for peace, and things wherewith one may edify another" [St. Paul's Epistle to the Romans 14:19]
* ORDO CENTURIONUM * IN HOC SIGNO VINCES * TIME DEUM ET OPERARE IUSTITIAM