LORD, we pray thee that thy grace may always prevent and follow us, and make us continually to be given to all good works; through Jesus Christ our Lord. Amen.
Source: Bishop Gregory [595]. "Pevent" meaning to come before from the verb prevenient. This calls to my mind Patrick's Breastplate Christ behind me, Christ before me... and Psalm 139 Thou hast beset me before and behind...
Jereniah xiii. 15, Ephesians iv. 1   &   St. Luke xiv. 1
Psalms 91, 92 | 105, 70 
Homilies


Is it lawful to heal on the sabbath day?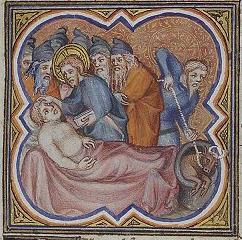 ---
John Chrysostom wrote on today's appointed epistle to the Ephesians concerning Paul's life and sufferings, and in the course of the homily, describes the scene with the jailer from Acts.  As our collect for today posits God's providence, God certainly prevented (went before) the jailer in his revelation of the miracle, and also in giving him the gift of faith that made his conversion possible at Paul's feet.
Now then, why did the event take place at midnight? And wherefore too with an earthquake? Hearken, and marvel at the providential orderings of God. Every one's bands were loosed, and the doors were opened. And yet was this done only for the jailor's sake, not with a view to display, but with a view to his salvation: for that the prisoners knew not that they were loosed, is evident from Paul's exclamation; for what said he? "He cried with a loud voice, saying, Do thyself no harm, for we are all here." (Acts xvi. 28.) But never would they all have been within, had they seen the doors opened, and themselves set at liberty. They who were used to cut through walls, and to scale roofs and parapets, and to venture on all sorts of attempts in chains, never would have endured to remain within, with their bands loosed, and the doors opened, with the jailer himself asleep; no, but the bond of sleep was to them instead of the bonds of iron. So that the thing took place and yet no damage ensued from the miracle to the jailer who was to be saved. And besides this too, they that are bound are bound most securely in the night, not in the day; and so accordingly might we behold them bound again with all care and sleeping: but had these things been done in the day time, there would have been great stir and tumult.
Then again, wherefore was the building shaken? It was to arouse the jailer, to behold what was done, for he alone was worthy of being saved. And do thou too, behold, I pray, the exceeding greatness of the grace of Christ, for well were it in the midst of Paul's bonds to make mention also of the grace of God, nay indeed the very bonds themselves are of the gift and grace of God. Some indeed there are who complain "Why was the jailer saved?" and from those very circumstances, for which they ought to admire the loving-kindness of God they find fault with it. Nor is it anything to be wondered at. Such are those sickly persons, that find fault even with the food that nourishes them, which they ought to prize, and who affirm that honey is bitter: and those dimsighted persons who are darkened by the very thing which ought to enlighten them. Not that these effects arise from the nature of the objects themselves, but from the weakness of the persons who are unable to use them properly. What, however, was I saying? When they ought to be admiring God's loving-kindness, in that He took a man who had fallen into the most desperate wickedness, and was making him better, they find fault: "Why, how was it that he did not take the thing to be the work of witchcraft and of sorcery, and confine them the more closely, and cry out?" Many things conspired to prevent this; first, that he heard them singing praises to God. And sorcerers never would have been singing such hymns as those, for he heard them, it is said, singing praises unto God. Secondly, the fact, that they themselves did not take flight, but even withheld him from killing himself. Now had they done it for their own sake, they never would have remained still within; they would themselves have escaped first of all. Great again was their kindness also; they withheld the man from killing himself, even him who had bound them, thus all but saying unto him, "Truly, thou didst bind us with all safety, and most cruelly, that thou thyself mightest be loosed from the most cruel of all bonds." For every one is shackled with the chains of his own sins; and those bonds are accursed, whereas these for Christ's sake are blessed, and worth many an earnest prayer. For that these bonds can loose those other bonds of sin, he showed to us by things which are matters of sense. Didst thou behold them released, who had been bound with iron? Thou shalt see thyself also delivered from other galling bonds. These bonds, the prisoners' bonds, not those of Paul, I mean, are the effect of those other bonds, the bonds of sins. They who were confined within, were doubly prisoners, and the jailer himself was a prisoner. They indeed were bound both with iron and with sins, he with sins only. Them did Paul loose to assure the faith of him, for the chains which he loosed were visible. And thus too did Christ Himself; but rather in the inverse order. In that instance, there was a double palsy. What was it? There was that of the soul by sins, and also that of the body. What then did the Lord do? "Son," saith He, "be of good cheer, thy sins are forgiven." (Matt. ix. 3–6.) He first loosed the bonds of the real and true palsy, and then proceeds to the other: for when "certain of the Scribes said within themselves, This man blasphemeth; Jesus, knowing their thoughts, said, Wherefore think ye evil in your hearts? For whether is easier, to say, Thy sins are forgiven, or to say, Arise, and walk? But, that ye may know that the Son of Man hath power on earth to forgive sins, (then saith he to the sick of the palsy,) Arise, and take up thy bed, and go unto thy house." Having wrought the invisible miracle, He confirmed it by the visible, the spiritual by the bodily cure. And why did He do thus? That it might be fulfilled, which is spoken, (Luke xix. 22.) "Out of thine own mouth will I judge thee, thou wicked servant." For what said they? "None can forgive sins, but God alone." Of course, therefore, no Angel, nor Archangel, nor any other created power. This ye have yourselves confessed. And what then ought to be said? If I shall be shown to have forgiven sins, it is fully evident that I am God. However, He said it not thus, but what said He? "But that ye may know that the Son of Man hath power on earth to forgive sins; then saith He to the sick of the palsy, Arise, and take up thy bed, and go unto thy house." (Matt. ix. 6.) When therefore, He would say, I work the more difficult miracle, it is plain that there is no pretext left you, no room for gainsaying about the easier one. Hence it was that He wrought the invisible miracle first, because there were many gainsayers; and then He led them from the invisible to the visible itself.
Surely then the faith of the jailer was no light or hasty faith. He saw the prisoners. And he saw nothing, he heard nothing wrong; he saw that nothing was done by sorcery, for they were singing hymns unto God. He saw that every thing done proceeded from overflowing kindness, for they did not avenge themselves against him, although they had it in their power; for it was in their power to rescue both themselves and the prisoners, and escape; and if not the prisoners, at all events themselves; but they did not do this. Thus did they challenge his reverence, not only by the miracle, but also by their behavior. For how did Paul cry out? "He cried with a loud voice, saying, Do thyself no harm, for we are all here." Thou seest at once his freedom from vain-glory and arrogance, and his fellow-feeling. He said not, "It is for us these wonders have been wrought," but as though he were merely one of the prisoners, he said, "For we are all here." And yet, even though they had not before this loosed themselves, nor had done so by means of the miracle, still they might have been silent, and have set all that were bound at liberty. For had they held their peace, and had they not with their loud crying stayed his hand, he would have thrust the sword through his throat. Wherefore also Paul cried out, because he had been cast into the inner ward: as though he had said, "To thine own injury hast thou done this, that thou hast thrust in so far those that could deliver thee from the danger." However they imitated not the treatment they had received at his hands; though, had he died, all would have escaped. Thou seest that they chose rather to remain in bonds, than to suffer him to perish. Hence too might he reason within himself, "Had they been sorcerers, doubtless they would have set the others at liberty, and have released themselves from their bonds:" (for it is likely that many such had also been imprisoned.) He was the more amazed, in that having often received sorcerers in charge, he had yet witnessed nothing done like this. A sorcerer never would have shaken the foundations, so as to startle the jailer from sleep, and thus render his own escape more difficult.
Now, however, let us proceed to look at the jailor's faith. "And," saith the Scripture, "he called for lights and sprang in, and trembling for fear fell down before Paul and Silas, and brought them out, and said, Sirs, what must I do to be saved?" He grasped fire and sword, and cried, "Sirs, what must I do to be saved?" "And they said, Believe on the Lord Jesus Christ, and thou shalt be saved, thou and thy house." (Acts xvi. 29–31.) "This is not the act of sorcerers," he would say, "to deliver a doctrine like this. No mention any where here of an evil spirit." Thou seest how worthy he was to be saved: for when he beheld the miracle, and was relieved from his terror, he did not forget what most concerned him, but even in the midst of so great peril, he was solicitous about that salvation which concerned his soul: and came before them in such a manner as it was meet to come before teachers: he fell down at their feet. "And they spake," it continues, "the word of the Lord, unto him with all that were in his house. And he took them the same hour of the night, and washed their stripes; and was baptized, he and all his, immediately." (Acts xvi. 32, 33.) Observe the fervency of the man! He did not delay; he did not say, "Let day come, let us see, let us look about us;" but with great fervency, he was both himself baptized, and all his house. Yes, not like most men now-a-days, who suffer both servants and wives and children to go unbaptized. Be ye, I beseech you, like the jailor. I say not, in authority, but in purpose; for what is the benefit of authority, where purpose is weak? The savage one, the inhuman one, who lived in the practice of unnumbered wrongs and made this his constant study, has become all at once so humane, so tenderly attentive. "He washed," it is said, "their stripes."
And mark, on the other hand, the fervency of Paul also. Bound, scourged, thus he preached the Gospel. Oh, that blessed chain, with how great travail did it travail that night, what children did it bring forth! Yea of them too may he say, "Whom I have begotten in my bonds." (Philem. x.) Mark thou, how he glories, and will have the children thus begotten, to be on that account the more illustrious! Mark thou, how transcendant is the glory of those bonds, in that they give lustre not only to him that wore them, but also to them who were on that occasion begotten by him. They have some advantage, who were begotten in Paul's bonds, I say not in respect of grace, (for grace is one and the same,) nor in respect of remission, (for remission is one and the same to all,) but in that they are thus from the very outset taught to rejoice and to glory in such things. "The same hour of the night," it is said, "he took them, and washed their stripes, and was baptized."
And now then behold the fruit. He straightway recompensed them with his carnal things. "He brought them up into his house, and set meat before them, and rejoiced greatly with all his house, having believed in God." For what was he not ready to do, now that by the opening of the prison doors, heaven itself was opened to him? He washed his teacher, he set food before him, and rejoiced. Paul's chain entered into the prison, and transformed all things there into a Church; it drew in its train the body of Christ, it prepared the spiritual feast, and travailed with that birth, at which Angels rejoice. And was it without reason then that I said that the prison was more glorious than Heaven? For it became a source of joy there; yes, if "there is joy in Heaven over one sinner that repenteth," (Luke xv. 7.) if, "where two or three are gathered together in His Name, there is Christ in the midst of them;" (Matt. xviii. 20.) how much more, where Paul and Silas, and the jailor and all his house were, and faith so earnest as theirs! Observe the intense earnestness of their faith.
Read it all at the link.
Finis
Released by Primus Pilus
Legio Christi-Ecclesia Militans
"Let us therefore follow after the things which make for peace, and things wherewith one may edify another" [St. Paul's Epistle to the Romans 14:19]
* ORDO CENTURIONUM * IN HOC SIGNO VINCES * TIME DEUM ET OPERARE IUSTITIAM