O LORD, we beseech thee, let thy continual pity cleanse and defend thy Church; and, because it cannot continue in safety without thy succour, preserve it evermore by thy help and goodness; through Jesus Christ our Lord. Amen.
Source of Collect - Bishop Gelasius' Sacrementary [494AD].One is reminded of Psalm 51 purge me with hyssop and I shall be clean and Rev 7:14, washed their robes, and made them white in the blood of the Lamb
Isaiah xii, Psalms 98, 99 | 89, Ephesians iii. 13   &   St. Luke vii. 11
Young man, I say unto thee, Arise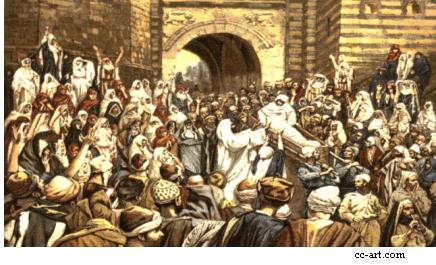 ---
Homily 
 In closing his homily on the Epistle, Chrysostom wrote,
Thus is it we ought to love our enemies, thus to imitate Christ. Thus did Paul. Stoned, suffering unnumbered cruelties, yet did he all things for their good. Hear his own words. "My heart's desire and my supplication to God is for them that they may be saved." (Rom. x. 1, 2.) And again; "For I bear them witness that they have a zeal for God." And again; "If thou, being a wild olive tree wast grafted in, how much more shall these be grafted into their own olive tree?" (Rom. xi. 24.) How tender, thinkest thou, must be the affection from which these expressions proceed, how vast the benevolence? it is impossible to express it, impossible.
Thus is it we ought to love our enemies. This is to love God, Who hath enjoined it, Who hath given it as His law. To imitate Him is to love our enemy. Consider it is not thine enemy thou art benefiting, but thyself; thou art not loving him, but art obeying God. Knowing therefore these things, let us confirm our love one to another, that we may perform this duty perfectly, and attain those good things that are promised in Christ Jesus our Lord, with Whom to the Father, together with the Holy Ghost, be glory, might, and honor, now, and for ever and ever. Amen.
Let us pray in the words of Chrysostom 

ALMIGHTY God, who hast given us grace at this time with one accord to make our common supplications unto thee; and dost promise, that when two or three are gathered together in thy Name thou wilt grant their requests; Fulfil now, O Lord, the desires and petitions of thy servants, as may be most expedient for them; granting us in this world knowledge of thy truth, and in the world to come life everlasting. Amen.
See it all at the link above.  
A thought in closing.  Chrysostom builds a case for this defining virtue of the Christian- Love of enemy. The one who can put aside all  manner of personal mistreatment for the sake of love and Christ's desire is indeed a saint. The one who can shed, like a duck sheds water, insults, deceptions, misunderstandings, slights, cruelty, etc has a righteousness that surpasses the most seemingly pious man who holds a grudge and seeks revenge, who hates his neighbor.  One might say it is far beyond them to act so saintly, but it is a calling that is brought into sharp focus in the homily of Chrysostom at the link, and a virtue we ought to pray for God to give and strengthen us in day by day... we are not perfect however, but we also recall what Paul wrote, "
If it be possible, as much as lies in you, live peaceably with all men."
--
Released by Primus Pilus
Legio Christi-Ecclesia Militans
"Let us therefore follow after the things which make for peace, and things wherewith one may edify another" [St. Paul's Epistle to the Romans 14:19]
* ORDO CENTURIONUM * IN HOC SIGNO VINCES * TIME DEUM ET OPERARE IUSTITIAM