Announcements below
The Eighteenth Sunday after Trinity

LORD, we beseech thee, grant thy people grace to withstand the temptations of the world, the flesh, and the devil; and with pure hearts and minds to follow thee, the only God; through Jesus Christ our Lord. Amen.
Source Bishop Gelasians Sacrmentary [494] where appointed for the Sunday before Ember Days in the Autum. Ember days were for penitence, fasting, and the Saturday for ordinations in Rome. The 1662 added temptations of the world, the flesh One is reminded of the Lord's prayer and of 2 Perter 2:9
Amos viii. 4, Psalm 62, 1 Corinthians i. 4. & St. Matthew xxii. 34
Homilies Featuring Chrysostom on the Gospel
And no man was able to answer him a word,
neither durst any man from that day forth ask him any more questions.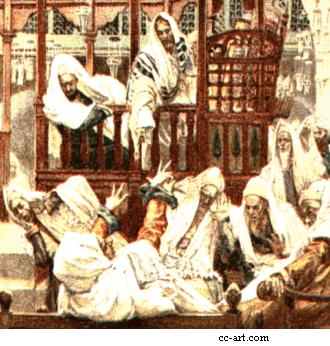 Announcements for the week beginning 25 September 05


Weekly Collect, Scripture and Homily
May be used throughout the week following the apppointed Sunday unless another set is appointed for a special day
Please hold all centurions in your prayers this week. You may like to use this
Centurion's Daily Litany
Last call for Labarum Guard
Feasts and Fasts
The Early Church fasted Wednesdays and Fridays except Christmas to Epiphany and Easter to Pentecost
Michael, Archangel Militant, and all angels - September 29th
Also the dedication of the Order and Chapel 29 September

Ursus and Victory, Soldier of Theban Legion, Martyrs - September 30th
Bulletin Insert -- pdf reader updated weekly by Religion.com
publication problems, maybe last week's?

BIDDINGS

Please pray for
Survivors & Support Operations -- Hurricane Katrina & Rita
Centurions in harms way,
Centurions in special training (OCS)
Peace in the Mideast