ALMIGHTY Father, who hast given thine only Son to die for our sins, and to rise again for our justification; Grant us so to put away the leaven of malice and wickedness, that we may always serve thee in pureness of living and truth; through the merits of the same thy Son Jesus Christ our Lord. Amen.
Source of Collect: Archbishop Cranmer [1549 AD]. This was originally used for the second communion, if any, on Easter. Lost in the 1552 revision, and restored in 1662. From 1 Cor v. 8 "Therefore let us keep the feast, not with old leaven, neither with the leaven of malice and wickedness; but with the unleavened bread of sincerity and truth." [Barbee and Zahl]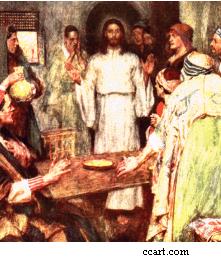 Peace be unto you: as my Father hath sent me,
even so send I you.